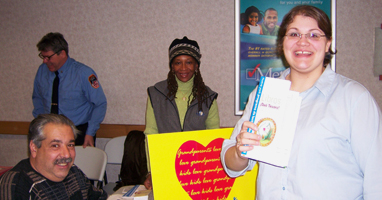 DOT's Office of Safety Education hosts a week of Grandparents Safety Fairs each February to promote traffic safety awareness for older adults.
February is Grandparents Safety Month at DOT

New York is one of the most senior-friendly cities in the country. Seniors have access to world-class health-care, cultural facilities and can live in close proximity to relatives and friends. The vast majority of older adults (over 95%) have no limits on their mobility and a whopping 90% report being active in their communities. But seniors still face physical changes that can impact their safety as pedestrians.

DOT works to make sure that seniors have safe, comfortable access to all that New York has to offer by increasing traffic safety in areas with high densities of senior citizens. DOT's Safety Education group also works with senior centers to teach older adults safety tips and encourage seniors to keep walking as part of a healthy lifestyle.



Safe Streets for Seniors

Since 1990, pedestrian fatalities in New York City have decreased by 62%, but senior citizens remain a particularly vulnerable group. A study of pedestrian fatalities from 2002 to 2006 showed that senior citizens, those 65 and over, made up about 12% of the City's population but were involved in nearly 39% of the City's fatal pedestrian accidents.

Because New York City's senior population is expected to increase significantly in the next 25 years, DOT examined accident histories across the city and identified 25 city neighborhoods that have both a high density of senior citizens and a high number of pedestrian accidents or injuries, looking at variables like visibility, lighting, drivers' compliance with traffic and pedestrian signals and the width of the roadway.

As part of the Safe Streets for Seniors program, engineers will evaluate pedestrian conditions in these neighborhoods from a senior's perspective and make engineering changes such as extending pedestrian crossing times at crosswalks and shortening crossing distances, altering curbs and sidewalks, restricting vehicle turns, and narrowing roadways.

Improvements have already been made in Brighton Beach, Brooklyn; Flushing, Queens and on the Lower East Side in Manhattan.

Find out the other neighborhoods slated for improvement and learn more about the Safe Streets for Seniors Program.



The Top 10 Reasons to Start a Long-Term Walking Program

1. Lower blood pressure. Exercise causes blood vessels to dilate, which reduces pressure on blood vessel walls.
2. Lower cholesterol. Exercise lowers your cholesterol level, which decreases the risk to your heart.
3. Strengthen your heart and cardiovascular system. Your heart rate rises while walking, which can lower it when you rest. A stronger heart and cardiovascular system also lowers the risk of coronary disease and heart attack.
4. Increase bone density. Weight bearing exercise, such as walking, is very important for women battling osteoporosis.
5. Produce growth hormones to counter the effects of aging. As you grow older, your body stops producing the hormones that help keep muscles strong. Regular exercise is an excellent way to keep the body producing these hormones.
6. Increase production of endorphins. Endorphins are the body's natural way to decrease stress and help you to relax. As a result of endorphin release, you may find you feel better and sleep more soundly.
7. Lose weight. Studies have shown that walking regularly can help you lose weight and keep unwanted pounds from returning.
8. Strengthen your nervous system and reflexes. When your body moves, the brain sends "messages" to your muscles that tell the muscles how to work. Walking increases the frequency of those messages and help the nervous system and your reflexes to work better.
9. Increase flexibility. Walking and stretching increase overall flexibility and make daily activities such as climbing stairs, walking across the street and driving a car easier and safer.
10. Stay fit. Walking builds your strength, endurance and flexibility, which contributes to better balance. By striving to increase all four factors, you lower your risk of injury and slow the aging process in your joints and muscles

Source: National Highway Traffic Safety Administration
Forward this email to a friend and tell them to sign up for monthly safety tips from DOT's Office of Safety Education, at: www.nyc.gov/dotnews.




Upcoming Events Grandparents Safety Fairs

Wednesday, February 18
Jacobi Hospital, 1400 Pelham Pkwy So., Building 8, Main Lobby, Bronx 10461, 10:00 AM – 2:00 PM
Roosevelt Island Senior Center, Good Shepherd Chapel, 546 Main St., Roosevelt Island 10044, 10:00 AM – noon

Thursday, February 19 Richmond University Medical Center, 355 Bard Ave., Main Lobby, Staten Island, NY 10301, 10:00 AM – 2:00 PM
Kings County Hospital, 451 Clarkson Ave, E Building, Geriatric Center, Brooklyn 11203, 10:00 AM – 2:00 PM

Friday, February 20 Elmhurst Hospital, 79-01 Broadway, Main Lobby, Elmhurst 11373, 10:00 AM – 2:00 PM

For a complete list of events see NYCDOT's event calendar.


More Safe Walking Resources

Walking Wisely

AARP's Guide to Starting a Walking Group


Making Walking a Way of Life