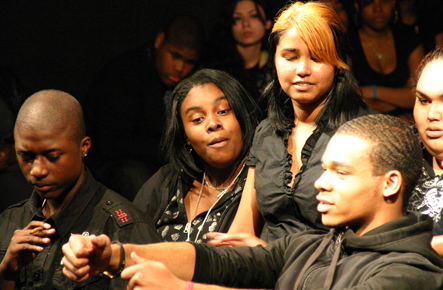 Students at Hillcrest High School in Queens use theater to spread the word that drunk driving is unacceptable.





Designated Drivers are Holiday Heroes

The holidays are here and many New Yorkers will celebrate with a drink or two. And there's nothing wrong with that. But taking your holiday cheer behind the wheel of a car puts you, your loved ones, and other New Yorkers at risk for serious injuries and fatal crashes.

It was hard to miss seeing the consequences of drinking and driving this year. In late July a horrific crash on the Taconic State Parkway killed eight people. A 36-year-old mother, driving drunk and high, died, along with one of her own children, three of her nieces and three men in the oncoming car she slammed into. Then in October, 11-year-old Leandra Rosado was killed when the mother of one of her friends flipped her car on the Henry Hudson Parkway in Manhattan. The driver was charged with driving while intoxicated and vehicular manslaughter.

Beyond these high profile cases, courts in New York convicted 37,695 people for drunken driving last year, and nationwide in 2008 drunk drivers killed 11,773 people.

In the sober light of day, everyone agrees that drinking and driving is unacceptable. So how can we keep that resolve after a few drinks?

Make a plan before heading out for holiday celebrations. We are lucky to live in the city with the best mass transit system in America. Don't want to wait for a train or bus? There's a yellow cab to be hailed or a black car just a phone call away. A suggested plan: take your Metrocard, some extra cash for a car at the end of the night, or enlist a friend as a designated driver for the evening. Encourage your friends to do the same and share the responsibility (and the cab fare!).

It's easier to stick to a plan you make while sober and not be tempted to chance it after a drink or two. Play it safe, make a plan, and don't drink and drive this holiday season.



Leandra's Law: In Effect December 18

On November 18th Governor Patterson signed "Leandra's Law," which became effective on December 18, 2009. According to the new law, a person who drives intoxicated by alcohol or impaired by drugs with a child fifteen years old or younger in the vehicle may be arrested. This crime is a felony that is punishable by a prison sentence of 16 months to four years.

Click here for more information on recent changes to Driving While Intoxicated legislation.

Download our DWI penalty card in English.

For DWI penalty cards in Chinese, Urdu, Korean, Polish, Russian or Spanish, click here.