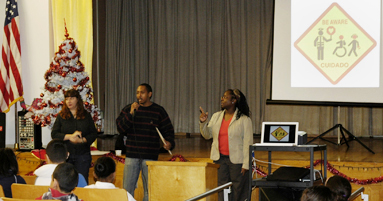 This month students at PS4 unveiled new traffic safety awareness signs that they created in partnership with the non-profit Groundswell, with assistance from NYCDOT. Several schools through the City are working on similar projects; the completed array of signs will be showcased this spring.
NYCDOT wishes you a safe and healthy holiday season!

The holidays are a busy time of year, especially on our streets and highways. Remember these "SAFE" tips to keep yourself and those you love safe now and throughout the year.



Safety

is everyone's responsibility. Drivers and passengers should work together to make each trip a safe one by avoiding drinking and drugs and always using safety belts.


Alcohol

impairs judgment, perception, reaction time and coordination. If your celebrations involve alcohol, your ability to walk or drive safely is compromised.


Find

safe alternatives to driving or walking under the influence. Offer friends and relatives a place to stay, pay for a taxi or designate a sober driver.


Encourage

your friends and family to avoid dangerous situations such as speeding, distractions and impaired driving or walking.



Take the pledge




Sign the NYCDOT Contract for Safety
Food for Thought - Drinking and Driving
In the United States, fatal driving crashes involving alcohol occur every 39 minutes.
Recent statistics show that drivers are not the only people at risk. Of those who lose their lives in alcohol-related crashes, on average 64 percent were drivers, 30 percent were passengers, and six percent were pedestrians or bicyclists struck by impaired drivers.
Alcohol plays a role in about 17 percent of fatalities to children. Of these fatalities, half of the children were passengers riding with drivers who were under the influence of alcohol. In 2006, 45 children were struck and killed by an impaired driver while walking or bicycling.
Crash rates involving alcohol are much higher at night and on weekends.
Any amount of alcohol impairs a person's ability to drive. Of the fatal crashes in New York State, 18 percent had a Blood Alcohol Concentration (BAC) of less than .08, proving that driving after just one drink can be dangerous. Of these fatal crashes, 53 percent had a BAC of .15 or above.
(National Highway Traffic Safety Administration, Traffic Safety Facts, DOT HS 810 80)
Forward this email to a friend and tell them to sign up for monthly safety tips from DOT's Office of Safety Education, at: www.nyc.gov/dotnews.




DOT Safety Education Events

Free Car Seat Check
Is your child car seat installed properly? Nine out of ten car seats are not. Find out if yours is. Come to a free car seat check on Saturday, January 10, at Chevrolet-Saturn of Harlem, 2485 Second Avenue at 127th Street, Manhattan, between 11:00 am and 3:00 pm. A trained car seat technician will check your seat and demonstrate correct installation. No appointment is necessary. Future events are scheduled for February 14 and March 14.

If you cannot attend this event call 311 for an appointment for a free child car seat inspection at a DOT Fitting Station. Please note that we cannot accept walk-ins. DOT Child Car Seat Fitting Station locations can be found here.

For a complete list of events see NYCDOT's event calendar.


More Drinking and Driving Resources

National Highway Traffic Safety Administration

Mothers Against Drunk Driving (MADD)