Create. Learn. Live.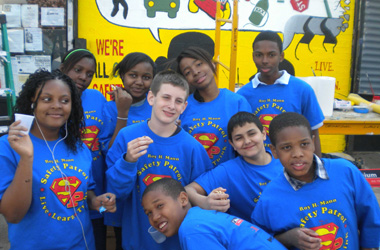 DOT and Groundswell Create Community Mural Project
This year, students throughout the five boroughs participated in a unique traffic safety program created by DOT and the Groundswell Community Mural Project. During the 14-session program, students learned about pedestrian safety and surveyed the streets and intersections by their schools to analyze local traffic conditions. They worked with teaching artists to study the use of colors and symbols and visited the DOT Sign Shop to see firsthand how traffic signs are made. Each group then designed an original, one-of-a-kind traffic safety sign that addressed their safety concerns.
"Safety is the most important goal of any transportation network, and innovative programs that teach street-smart practices to children are a significant down payment toward preparing and protecting the next generation of pedestrians, cyclists and motorists," said DOT Commissioner Janette Sadik-Khan. "These signs reflect the safety awareness of the students who created them, and they will also prompt the increased awareness of the thousands who will see these signs as they walk, drive or bike down these streets."
This program debuted in the 2008-2009 school year with five fifth-grade classes participating. This year the DOT-Groundswell partnership has expanded, with five fifth-grade classes and two junior high school classes participating in sign design projects.
This spring, DOT and Groundswell will create a traffic safety mural in Brooklyn. Students from Millennium Development's Out of School Time program at IS 78 as well as merchants and community leaders in the Bergen Beach community have worked together on the design which will be painted later this spring.
Traffic Safety and the Arts: Ideas for Parents, Caregivers and Educators
Start talking about safety with your children! Take a walk in your neighborhood and look all around to find the answers to our Neighborhood Safety Survey.
For a quick coloring activity, download these free safety coloring sheets from Safe Kids USA.
Start learning about traffic, encouraging walking and exploring safety themes with this short list of children's books. Special thanks to Louise Lareau of the New York Public Library for these titles. For more suggestions, ask your local children's librarian.
Barton, Byron. My Car. Greenwillow Books, 2001.
Carlson, Nancy. Get Up and Go! Viking, 2006.
Caseley, Judith. On the Town: a Community Adventure. Greenwillow Books, 2002.
Hoban, Tana. I Read Signs. Greenwillow Books, 1983.
Johnson, D.B. Henry Hikes to Fitchburg. Houghton Mifflin, 2000.
McCloskey, Robert. Make Way for Ducklings. The Viking Press, 1941.
Rosenberry, Vera. Vera Rides a Bike. Henry Holt and Company, 2004.
Shannon, David. Duck on a Bike. The Blue Sky Press, 2002.
Suen, Anastasia. Red Light, Green Light. Harcourt, Inc., 2005.
Lillegard, Dee. Go!: Poetry in Motion: Poems. Alfred A. Knopf, 2006.
Thomas, Pat. I Can Be Safe: a First Look at Safety. Barron's Educational Series, Inc., 2003.
More Safety Resources
Traffic Sign Quiz for Kids from the New York State DMV
Street Safety Cartoon from the Children's Hospital of Pittsburgh
Forward this email to a friend and tell them to sign up for monthly safety tips from DOT's Office of Safety Education, at www.nyc.gov/dotnews.
DOT Safety Education Events
Free Car-Seat Check
Is your child car-seat installed properly? Nine out of ten car seats are not. Find out if yours is. A trained car-seat technician will check your seat and demonstrate correct installation. No appointment is necessary.

Chevrolet Cadillac of Harlem
2485 Second Avenue at 127th Street, Manhattan
Saturday, May 8th
11 am - 3 pm

If you cannot attend this event, call 311 to make an appointment for a free child car seat inspection at a DOT Fitting Station. Please note that we cannot accept walk-ins. Car-seat checks are done by appointment Mondays through Fridays at all DOT inspection stations.

Bike Helmet Fittings and Giveaways

Earth Day Rockaway
Beach 29th Street (on the boardwalk) Far Rockaway, Queens
Saturday, May 1st
11 am - 3 pm

Lower East Side Kids' Bike-Art Parade
Tompkins Square Park, Manhattan
Saturday, May 8th
10 am - 2 pm

The Department of Transportation will give away free bike helmets while supplies last. Helmets are available for all ages. You must be present to get a helmet and you must learn how to properly fit and wear it before you receive it. Adults over 18 receiving a helmet must sign a waiver, and a parent or legal guardian must be present to sign a waiver for children under age 18.