New Protected Lanes
DOT is adding new protected bike lanes to several locations around the City this year, and extending the 8th Avenue bike lane.
In the past few years, the lanes have improved safety and reduced sidewalk cycling. Since the lanes were installed on 9th Avenue in Manhattan, injuries to all street users have dropped 56% and sidewalk cycling is down 84%. On Grand Street, also in Manhattan, injuries are down 31% and sidewalk cycling is down 84%.
In Brooklyn, a bi-directional, parking protected lane on Prospect Park West creates a direct and safer route for cyclists from south of Prospect Park (who have long used the same route, while either going against traffic or on the sidewalk). The project was conceived at the community's request to calm traffic and was designed with their concerns in mind. Warning signs encourage people exiting the park to look for cyclists in both directions and cyclists have flashing yellow signals reminding them to yield to pedestrians at crossings. The bones of the lane have already been installed; the work should be complete by the end of July, weather permitting.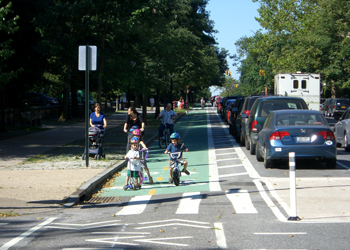 Nearly 2 miles of new protected bike path being installed on Prospect Park West.
Later this summer, DOT will install a new parking protected bike lane on Columbus Avenue on Manhattan's Upper West side from West 96th to West 77th Streets. There are currently no southbound bicycle facilities on the Upper West Side (unless you detour west to the Hudson River Greenway). The width of Columbus Avenue presented an opportunity for DOT to install the lane without removing a travel lane and simultaneously make safety improvements to calm traffic and decrease pedestrian crossing distances at intersections.
Work has already begun on the First and Second Avenue Bus Rapid Transit project, which includes a parking protected bike path between East 14th Street and Houston Street. By the fall, new lanes will be installed on First Avenue in Manhattan from Houston to 34th Street, and on 2nd Avenue from 34th to 23rd Streets and 14th Street to Houston. DOT will also upgrade the 1st Avenue lane from 72nd to 125th Street, installing a painted buffer between motorists and cyclists. DOT hopes to extend these facilities in future years.
Find out more about the other new bike routes DOT is installing this summer.
Quick Tip
Be a basket case. A bike basket is a back-saver and can help transform your trip. They free you to use your bike for quick errands to the grocery store, let you carry your work gear to and fro, or tote a picnic to the park.
Better Route to and from the East River Bridges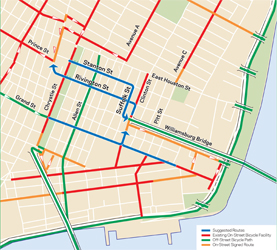 The blue lines show new, safer bike routes to and from the Williamsburg Bridge.
There's now a safer way to get to and from the Williamsburg Bridge in Manhattan. Though Delancey is direct, we suggest a slightly more scenic and much saner route to and from the bridge. If you're north of the bridge, you can ride in comfort on a 6-foot wide, green painted curbside lane. Towards the bridge, take Stanton Street to Suffolk Street. Away from the bridge, take Clinton Street north to Rivington Street. South of the bridge, the Grand Street bike lane will lead you to Clinton Street, which takes you right to the entrance of the bridge.
Brooklyn-based riders heading towards the Brooklyn and Manhattan Bridges now have new lanes on Smith and Hoyt Streets that connect the bridges through downtown Brooklyn, Boerum Hill and Carroll Gardens.
Get Your 2010 NYC Cycling Map

Get your copy of the Departments of Transportation, City Planning and Parks' NYC Cycling Map while supplies last. It includes bike lanes, routes, greenways, parks, bike shops and subway stations in all five boroughs, as well as safety information and tips. The map also shows bike rental locations. Download a copy online, pick up one at a local bike shop or call 311 to get one FREE.
Safety Tip
Don't know a bike box from a bread box? Wondering why some bike lanes are turning green? Find out all about DOT's new bicycle facility designs and how to use them to increase your safety on the streets with Bike Smart: The Official Guide to Cycling in NYC.