NYC DOT manages and maintains 28,000+ CityRacks citywide and more are added every year. CityRacks provide free and public bicycle parking on New York City sidewalks. CityRacks are designed for short-term bike parking to keep New York City moving and to help discourage bike parking on mailboxes, parking meters, trees, and other sidewalk structures. Find bike parking on the CityRack map
Suggest a Location for a CityRack
DOT prioritizes neighborhoods and key corridors to achieve high quality, coordinated street furniture layouts to better track and maintain all of the assets on our streets. DOT invites the public to suggest new locations on the DOT Right-of-Way (that is, on public sidewalks, not private property) as we continue to expand our network.
Suggest a Street Furniture Location
Along with public suggestions to prioritize new locations, the CityRacks Program prioritizes the following:
Along bike lanes
Sidewalks near transit facilities (e.g. subway stations)
Commercial zones and shopping districts
Municipal facilities (e.g. public libraries, schools, hospitals)
Report a CityRack Problem
DOT maintains, repairs, and replaces damaged racks. To increase response time, NYC DOT encourages reporting of damaged racks from the public. Property owners are responsible for keeping the sidewalks around the racks clean and clear of snow as required by law.
Report a Street Furniture Issue
Report Junk Attached to a CityRack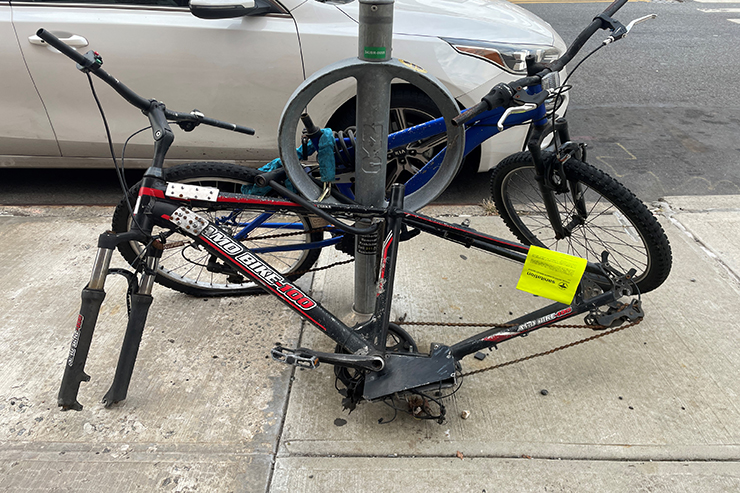 If you find junk attached to a CityRack taking up valuable space, please report it. "Junk" refers to objects that fall under three general categories—Derelict Bikes, Non-Derelict Bikes, and Junk Other than Bikes.
Derelict Bikes have to meet certain criteria before they can be reported to DSNY for removal. For a bike to be considered derelict, it must have two or more of the following characteristics:
The bike appears to be crushed or not otherwise usable.
The bike is missing essential parts, such as handlebars, one or more pedals, rear wheel, or bike chain.
The handlebars, pedals, spokes, frames or rims are damaged or bent.
50% or more of the bike is rusted, including parts like the frame, handlebars, and pedals, as well as the bike chain attaching it to public property.
Non-Derelict Bikes are those that don't meet the criteria but are obstructing pedestrian traffic or are a safety concern. These issues should be reported to your local NYPD precinct