April 3 – 7, 2017
The U.S. Department of Transportation and the Federal Highway Administration present National Work Zone Awareness Week each spring, to bring national attention to motorist and worker safety in work zones.
DOT participates to raise driver awareness and decrease the number of persons killed in motor vehicle crashes in work zones. This year DOT will hold a press conference and outfit our truck fleet with awareness images. Print and outdoor ads to promote work zone safety will be placed in New York City.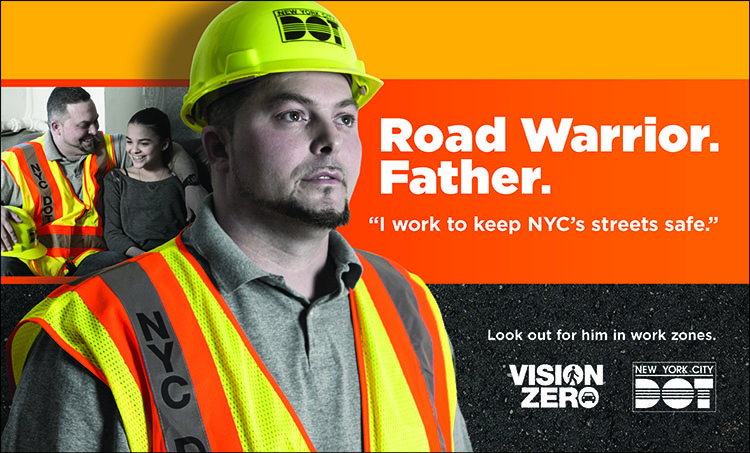 Work Zone Facts at a Glance
On average, nearly 700 work zone fatalities occur nationwide every year.
Nearly four in five victims in work zone crashes are drivers and passengers.
More than 35,000 people are injured each year as a result of motor vehicle crashes in work zones.
One work zone fatality occurs approximately every 12 hours (1.9 a day)
One work zone injury occurs approximately every 14 minutes (97 a day)
4 NYC DOT workers have died in work zone incidents in the last two decades.
25 NYC DOT workers have been injured in work zone incidents since 2009
In New York State, there were 723 crashes, resulting in six fatalities in work zones on state roads and bridges.
(Source: 2010 FHWA facts & statistics, NYC DOT and NYS DOT.)
Tips on Driving Safely in Work Zones
Drive within the posted speed limits.
Dedicate full attention to the roadway.
Refrain from distracting activities, such as changing radio stations and especially using mobile phones.
Pay close attention to merge signs, and do not change lanes within the work zone.
Merge into the proper lane well before you reach the lane closure.
Watch out not only for workers in the zone, but also for their equipment.
Be patient and remember that the work zone crew members are working to improve our roads for our safety and convenience.
New York State Work Zone Safety Bill
There is proposed legislation in front of the New York State Legislature to improve worker safety. This Work Zone Safety Bill would amend the Vehicle and Traffic Law by defining the new crime of intrusion into an active work zone as a class B misdemeanor, which will subject offenders to a $250 to $500 fine and/or a maximum sentence of three months imprisonment. The bill would also amend the Penal Law by creating the new crimes of vehicular manslaughter in an active work zone in the first degree (a class B felony offense), vehicular manslaughter in an active work zone in the second degree (a class C felony offense), vehicular assault in an active work zone in the first degree (a class D felony) and vehicular assault in an active work zone in the second degree (a class E felony).
Other states have passed tough penalties for drivers who cause injury or death to construction workers. In Pennsylvania, a "homicide by vehicle" which occurs in an active work zone incurs an additional 5 years in prison. Michigan currently has the toughest criminal penalties for crashes that occur in work zones. A person who commits a moving violation such as speeding more than 10 miles over the posted speed limit in a work zone and as a result causes death to a person working in a construction zone is guilty of a felony punishable by a fine of not more than $7,500 or by imprisonment of not more than 15 years or both. Thus, merely driving carelessly and not just reckless or drunken driving can trigger the felony penalties.