About DOT
Bruce Schaller, Deputy Commissioner for Traffic and Planning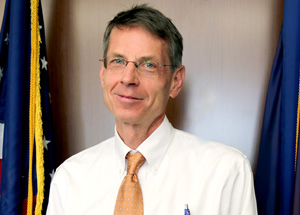 Bruce Schaller was appointed Deputy Commissioner for Traffic and Planning on January 3, 2012. In this capacity, Mr. Schaller is responsible for the safe, efficient and environmentally responsible movement of people and goods on the City's streets and for the development, installation, and maintenance of the City's traffic signals, street lights, traffic signs and roadway markings. He manages the municipal parking facilities and parking meters as well as the Department's Traffic Management Center (TMC). He is responsible for development and implementation of programs and projects to enhance the city's bus, bike, pedestrian and truck networks, including the implementation of the transportation elements in Mayor Bloomberg's PlaNYC and key initiatives in DOT's Sustainable Streets Strategic Plan. He also oversees DOT's art and urban design initiatives including liaison with the Public Design Commission, and clean fuel initiatives focused primarily on trucks, other commercial fleets, ferries and taxis/for-hire vehicles.
From June 2007 through 2011, Mr. Schaller served as DOT's first Deputy Commissioner for Planning and Sustainability, spearheading implementation of key PlaNYC initiatives including Select Bus Service (SBS), innovative parking pricing policies, public space planning including the DOT's Plaza Program; neighborhood planning studies; and publication of the Department's annual Sustainable Streets Index.
Prior to his tenure at DOT, Mr. Schaller was Principal of Schaller Consulting. He consulted extensively for local governments, transit and airport authorities, university and non-profit organizations, for-profit companies and federal agencies on identifying transportation needs, developing effective transit programs, taxicab regulation, transit fare policy, road pricing, transportation finance, customer communications and bus rapid transit.
Mr. Schaller has also served as Deputy Director for Marketing Research and Analysis at New York City Transit, where his work was instrumental in fare policy initiatives, expansion of the paratransit program, developing customer communications and design of new subway cars and buses, and as Director of Policy Development and Evaluation at the New York City Taxi and Limousine Commission.
A 30-year resident of Brooklyn, Mr. Schaller has a Masters in Public Policy from the University of California at Berkeley and a BA from Oberlin College in Oberlin, Ohio.