About DOT
Brooklyn Borough Commissioner
Joseph Palmieri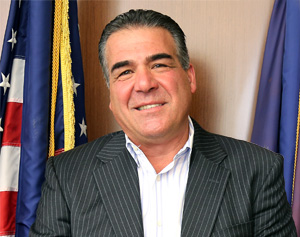 Joseph Palmieri was appointed Brooklyn Borough Commissioner in March 2006. He previously served as Bronx Borough Commissioner from July 2000 to March 2006.
Mr. Palmieri has worked for the Department of Transportation since 1984. He began as a Traffic Device Maintainer, and in 1986 became Supervisor of Traffic Device Maintainers. In 1989, he became Supervisor of the Citywide highway sign program, and in 1991 moved to the Division of Parking, where he was Supervising Superintendent. In that capacity, he oversaw the meter maintenance unit, which installs parking meters throughout the City. In 1993, he was appointed Deputy Chief of Meter Collection, the unit responsible for collecting revenues from the 64,000 parking devices throughout the City. This unit brings in approximately $50 million each year. While in this position, he helped initiate Operation Meter Shield, which increased parking revenues by $1 million a year. In 1996, he was named Assistant Chief of the Meter Route unit, which was responsible for repair and maintenance of parking meters.
Mr. Palmieri served as Acting Borough Engineer for Brooklyn from March to September 1999, and as Borough Engineer for the Bronx from September 1999 to July 2000. In those positions, he was responsible for all traffic studies and sign installations in those boroughs.
Mr. Palmieri is an avid runner who has completed six New York City Marathons and many other races.
As Brooklyn Borough Commissioner, Mr. Palmieri is the agency advocate for the delivery of transportation services in the borough and advises the Commissioner on all sensitive policy issues affecting transportation in the borough. The Borough Commissioner is the agency liaison to the community, including elected officials, community boards, business improvement districts, advocacy groups, and individuals. He monitors and expedites service requests directed to the Department by working with the operating units, including Planning, Parking, Signals, Street Lights, Safety, Bridges, Street Maintenance, and Capital Reconstruction. He coordinates the delivery of essential traffic safety services (engineering, enforcement and education) in the borough. He works with the Police Department to obtain appropriate response at locations identified as accident-prone locations.