Bronx Borough Commissioner Constance Moran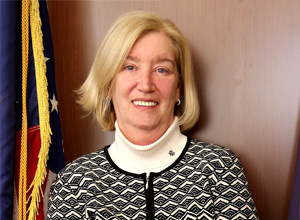 Constance Moran has served as Borough Commissioner in both the Bronx and Queens. She was reappointed the Bronx Borough Commissioner in March 2006 after nearly three years in Queens. She had been the Bronx Borough Commissioner from March 2001 to June 2003. Previously, she served for two years as Executive Assistant to the Queens Borough Commissioner. She coordinated the Borough Commissioner's schedule, researched issues and produced analytical studies, and represented the Borough Commissioner at meetings with elected officials, community groups, and other City agencies. She coordinated responses and supervised the preparation of all correspondence for the Borough Commissioner.
From April 1996 to February 1999, Ms. Moran was Director of Community Affairs in the office of the Bronx Borough Commissioner. In that capacity, she was liaison to all 12 Bronx Community Boards and to other City agencies, such as the Department of Parks and Recreation and the Department of Environmental Protection. She acted as the Borough Commissioner's representative at community meetings, and in the absence of the Borough Commissioner, served as liaison to elected officials and community groups.
From November 1995 to April 1996, Ms. Moran was Senior Borough Coordinator for the Bronx in the Mayors Community Assistance Unit. She represented the Mayor's office at all Bronx Community Board District service cabinet meetings and general Community Board meetings, identified community problems and coordinated the resolution of issues. She coordinated the preparation of briefings for monthly Mayor's Town Hall meetings and for Mayoral appearances at local events, and coordinated responses to constituent complaints and to community issues with all City agencies.
As Borough Commissioner, Ms. Moran is the agency advocate for the delivery of transportation services in the borough and advises the Commissioner on all sensitive policy issues affecting transportation in the borough. The Borough Commissioner is the agency liaison to the community, including elected officials, community boards, business improvement districts, advocacy groups, and individuals. She monitors and expedites service requests directed to the Department by working with the operating units, including Planning, Parking, Signals, Street Lights, Safety, Bridges, Street Maintenance, and Capital Reconstruction. She coordinates the delivery of essential traffic safety services (engineering, enforcement and education) in the borough. She works with the Police Department to obtain appropriate response at locations identified as accident-prone locations. One of her highest priorities is making the areas around schools safe.
Ms. Moran is a lifelong Bronx resident. She was educated at St Nicholas of Tolentine High School in the Bronx and at Baruch College of the City University of New York. She has been a longtime officer of the Woodlawn Heights Taxpayers and Community Association and the 47th Precinct Community Council.