About DOT
Manhattan Borough Commissioner
Margaret Forgione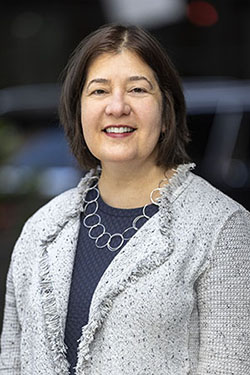 Margaret Forgione was appointed Manhattan Borough Commissioner in February 2002. In that position, she is the agency advocate for the delivery of transportation services in the borough and advises the Commissioner on all sensitive policy issues affecting transportation in the borough. The Borough Commissioner is the agency liaison to the community, including elected officials, community boards, business improvement districts, advocacy groups, and individuals. She monitors and expedites service requests directed to the Department by working with the operating units, including Planning, Parking, Signals, Street Lights, Safety, Bridges, Street Maintenance, and Capital Reconstruction. She coordinates the delivery of essential traffic safety services (engineering, enforcement and education) in the borough. She works with the Police Department to obtain appropriate response at locations identified as accident-prone locations.
Ms. Forgione was Director of Arterial Maintenance from October 1997 until her appointment as Manhattan Borough Commissioner. She was responsible for a 225-person operation that maintains 350 miles of arterial highways in New York City, including the maintenance of safety structures, cleaning, asphalt, and landscaping activities. Ms. Forgione managed the Banner Unit and the Adopt-a-Highway Program. Under her direction, 93% of all highway miles in New York City were adopted. She supervised staff performing construction oversight, including review of all design plans, monitoring contractors during construction for safety and quality, and issuance of environmental violations to contractors.
Before becoming Director of Arterial Maintenance, Ms. Forgione was Director of the Adopt-a-Highway and Banner Programs from December 1996 to October 1997, and Special Assistant to the First Deputy Commissioner from November 1994 to December 1996.
Ms. Forgione was a Senior Analyst in the Mayor's Office of Operations from December 1992 to November 1994, where she monitored the performance of the Departments of Transportation and Buildings, managed Citywide fleet issues, and developed an Employee Commute Options Program for 140,000 City employees to comply with the 1990 Clean Air Act. Previously, she was an analyst for Homes for the Homeless from July 1991 to December 1992, where she developed an innovative job training and employment program (Train and Gain) to foster independence, and managed a unit providing services to 325 formerly homeless families to prevent recidivism.
Ms. Forgione first came to the Department of Transportation in 1990 as an intern in the Office of Transportation Analysis, where she developed cost per unit studies of highway cleaning tasks performed in New York City, to negotiate for increased maintenance funding from the State of New York.
Ms. Forgione received a Bachelor of Science degree from the University of Connecticut, where she graduated Summa Cum Laude, Phi Kappa Phi, and Phi Beta Kappa, and a Master of Public Policy and Administration degree from Columbia University.