About DOT
Commissioner Polly Trottenberg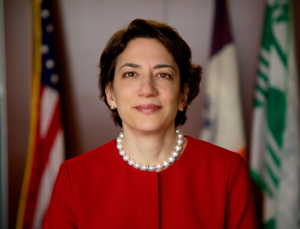 Polly Trottenberg was sworn in as Mayor Bill de Blasio's Commissioner of the New York City Department of Transportation on January 27, 2014. Responsible for one of the largest portfolios of any municipal agency, DOT provides for the safe, efficient and sustainable movement of people and goods throughout the five boroughs.
With an annual operating budget of $900 million and a five-year $6.3 billion capital program, DOT's assets cover more than 25 percent of New York City's land area. Every day, 4,500 skilled and dedicated agency employees meet the challenge of maintaining a state of good repair for 6,000 miles of the world's busiest streets and highways, one million street signs, 315,000 street lights and 12,700 signalized intersections. Together with operating the Staten Island Ferry, the nation's busiest commuter ferry service, and managing 789 bridges, including the iconic East River Bridges, DOT upholds and enhances the transportation infrastructure crucial to the city's economic vitality and quality of life.
With DOT serving as one of the lead agencies in implementing Mayor de Blasio's Vision Zero traffic safety initiative, Trottenberg's priorities include establishing policies and programs to dramatically reduce traffic fatalities and injuries and continue the effort to make New York's streets the safest in the country. Trottenberg is also focused on improving public space and transportation options, including Select Bus Service and cycling, in underserved neighborhoods so that all New Yorkers have access to jobs, education and opportunities to improve their daily lives.
Trottenberg's 22 years of government experience include over four years at USDOT, most recently as the Under Secretary of Transportation for Policy, where she developed key initiatives for the Obama Administration, including the groundbreaking TIGER discretionary grant program. In 2008, Trottenberg was named as the first Executive Director of Building America's Future, a non-profit organization that advocates for increased investment in infrastructure and major transportation policy reform. During her 12 years on Capitol Hill, Trottenberg served with U.S. Senators Charles Schumer, Daniel Patrick Moynihan and Barbara Boxer. Prior to her work in Congress, Trottenberg also served at the Port Authority of New York and New Jersey. Trottenberg holds a B.A. in History from Barnard College and an M.P.P. from the Kennedy School of Government and lives in Brooklyn.