Queens Borough Commissioner Dalila Hall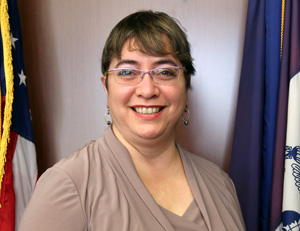 Dalila Hall was appointed Queens Borough Commissioner in April 2013. She previously served as the Deputy Queens Borough Commissioner from October 2011 to April 2013.
She began her career with the City's Department of Transportation in April 2002, starting as a Borough Planner in the Brooklyn Borough Commissioner's Office until September 2005 when she was named Deputy Brooklyn Borough Commissioner, a post she held until September 2007. During that time Ms. Hall co-managed the Downtown Brooklyn Traffic Calming project and helped lay the groundwork for the Brooklyn Waterfront Greenway. In fall 2007, Ms. Hall joined the DOT team that worked to fulfill elements of PlaNYC, including the residential parking permits that were part of the Congestion Pricing plan. She led the extensive outreach effort to engage communities in all five boroughs to envision new parking policies and helped the agency implement the initial phase of ParkSmart, a variable rate parking program. She also helped shape the scope for the Jackson Heights Transportation Study, which created the template for how the agency engages communities for its transportation studies.
In fall 2009, Ms. Hall was named Director of Special Projects in the Manhattan Borough Commissioner's office. She managed outreach efforts for the First/Second Avenue Select Bus Service, 34th Street Select Bus Service, and oversaw agency review of the Hudson Yards development.
Before joining DOT, Ms. Hall worked in the private sector as an urban planner and the non-profit sector on community revitalization projects. She is a Texas native who moved to New York to attend graduate school at the Pratt Institute, whose advocacy planning program has shaped her commitment to working closely with communities to build better neighborhoods. She earned her bachelor's degree in Geography/Environmental Studies from the University of St. Thomas in Houston, Texas.
As Borough Commissioner, she is the agency advocate for the delivery of transportation services in the borough and advises the Commissioner on all sensitive policy issues affecting transportation in the borough. The Borough Commissioner is the agency liaison to the community, including elected officials, community boards, business improvement districts, advocacy groups, and individuals. She monitors and expedites service requests directed to the Department by working with the operating units, including Traffic & Planning, Parking, Signals, Street Lights, Safety Education, Bridges, Street Maintenance, and Capital Reconstruction. She coordinates the delivery of essential traffic safety services (engineering, enforcement and education) in the borough. She works with the Police Department to obtain appropriate response at locations identified as accident-prone locations.