About DOT
First Deputy Commissioner Lori Ardito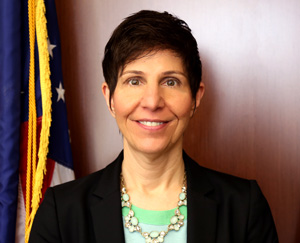 Lori Ardito was appointed First Deputy Commissioner in May 2007. As DOT's chief operating officer, she oversees the divisions in the Department that ensure the safe, efficient, and environmentally responsible movement of people, goods, and vehicles throughout the City of New York. This includes the maintenance of approximately 6,300 miles of streets and highways, the management and rehabilitation of more than 700 bridge structures, operation of the Staten Island Ferry, oversight of private ferry service, management of municipal parking facilities, and maintenance of the City's street lights, traffic signals, and traffic signs.
Prior to becoming First Deputy Commissioner (FDC), Ms. Ardito served as Lower Manhattan Borough Commissioner. The Borough Commissioner is the agency's liaison to the community, including elected officials, community boards, business improvement districts, advocacy groups, and individuals. While in Lower Manhattan, FDC Ardito took the additional responsibility of coordinating construction work on streets near the World Trade Center site to ensure that the reconstruction effort was accomplished with the least possible amount of disruption. Previous to that appointment, she served as the Borough Commissioner of Brooklyn from August 2002 to March 2006. Here she worked with DOT's operating units to coordinate the delivery of essential traffic safety services to communities throughout the borough, New York's largest.
A graduate of Kean College in New Jersey, FDC Ardito joined the Department of Transportation in 1987 as a grants manager with the Bureau of Traffic's Planning Division. Over the next eight years she held various positions in the Divisions of Bridges and Roadways, with responsibilities ranging from maintenance operations to the supervision of central administrative personnel. In May 1997, FDC Ardito became the Administrative Superintendent of Highways for Brooklyn and Arterial Highways, directing both daily street maintenance activities in Brooklyn and the Citywide Arterial Resurfacing program.