NYC STEPS is being piloted at the NYC Family Justice Centers (FJC) in Queens, the Bronx, and Brooklyn through an innovative public-private partnership between the NYC Department of Information Technology & Telecommunications (DoITT), the NYC Mayor's Office to Combat Domestic Violence, NetApp, Skillsoft, Microsoft, CDW-G, NYC Small Business Services' Workforce1, the Mayor's Fund to Advance New York City and ManpowerGroup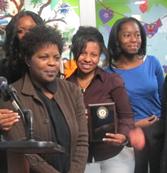 DoITT and NetApp developed the program.

NetApp provides in-kind donations of laptop computers and software.

Skillsoft provides online courses.

Microsoft provides software licenses.

CDW-G provides peripherals and secure storage for laptops.

The Family Justice Centers host the program and provide a safe, familiar environment with onsite childcare. Each center has a classroom space with laptop computers and internet access.

ManpowerGroup has helped develop seminars and has provided personal guidance for program graduates.

NetApp and ManpowerGroup have each sponsored paid internships for qualified graduates.
Program Success
To date 57 participants from over 20 countries, ranging in age from their twenties through their fifties, have graduated from the program. NYC STEPS has given these individuals the necessary resources, confidence, and skills to facilitate their return to the workforce.
The NYC STEPS pilot opened in fall 2011 at the Queens Family Justice Center, in spring 2012 at the Bronx Family Justice Center, and in fall 2012 at the Brooklyn Family Justice Center. The NYC Family Justice Centers are an initiative of the Mayor's Office to Combat Domestic Violence.
The Mayor's Office to Combat Domestic Violence's Family Justice Center Initiative reduces barriers faced by survivors of domestic violence who are seeking help. This innovative program, launched by Mayor Bloomberg in 2005, enables survivors to meet with a prosecutor, speak with a trained counselor, and apply for housing and financial assistance in just one visit. Currently, there are centers located in Brooklyn, Queens, and the Bronx.
Learn more about NYC's Family Justice Centers
Contacts

If you are interested in volunteering for NYC STEPS or exploring partnership opportunities please contact

 

DoITT

Potential NYC STEPS participants should contact their

 

Family Justice Centers