One of DoITT's goals is to facilitate a more transparent and open government to increase civic engagement. Through New York City's open data policy – a citywide set of standards and guidelines – DoITT is presenting information through NYC OpenData and ensuring that New York City government is increasingly accountable and open for future generations.
Beyond presenting information to the public, these data sets serve as a rich resource for developers, civic groups, and anyone else to build applications on their own. In addition to providing data, the City supplies APIs (application programming interface) through its Developer Portal. Fostering innovation and leveraging talents beyond City government to create solutions to tough problems.
The City's open data policy ensures ongoing access to public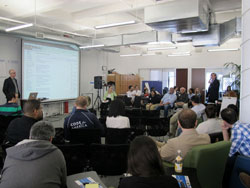 data according to the following timeline:
The City delivered qualifying agency data already publicly available on NYC.gov by March, 2013.

All agencies must publish compliance plans by September, 2013.

These plans will be updated each year and will together serve as a roadmap for agencies to post their datasets to a single Web portal by 2018.
Learn More: