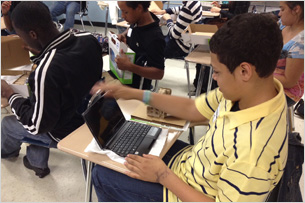 In New York City, broadband service is almost universally available - residential coverage stands at virtually 100 percent, and business access is pervasive. In this respect, New York is well ahead of many other American cities. However, as with every other major American city, a digital divide exists in terms of broadband adoption. This divide is especially pronounced with respect to lower-income residents and seniors. DoITT leads New York City in implementing several programs to address the interrelated aspects of the broadband adoption "gap".
Public-Private Partnerships
Partnerships between the City and individuals, non-profits, and the public and private sectors have created opportunities for innovative public services. The scale and scope of these collaborations are changing New York City's technology landscape – bringing WiFi to nearly a hundred blocks of Harlem, creating computer centers, and expanding digital access across the five boroughs. By leveraging government expertise and private-sector support, these partnerships allow the city to bring benefits to residents at little or no cost to taxpayers. As part of this public-private partnership model, DoITT strives to maximize benefits to the public when establishing franchise agreements. Learn more about telecommunications franchises and associated public technology benefits.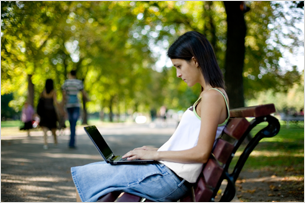 Current initiatives include:
Stimulus Programs
A key feature of DoITT's broadband strategy has been working to secure stimulus funds for the benefit of New York City residents, businesses, and visitors.
In 2010, DoITT secured Broadband Technology Opportunities Program (BTOP) funding from the federal government's American Recovery and Reinvestment Act of 2009. The BTOP program provided resources to expand broadband access and use across the U.S. in underserved communities. DoITT used the BTOP funding to benefit over 3 million New Yorkers through three main initiatives: NYC Connected Communities, NYC Connected Learning , and NYC Connected Foundations.
Ongoing Programs:
NYC Connected Communities: In 2013, the City announced funding to continue the NYC Connected Communities program, expanding public computer centers in high poverty areas and investing in libraries, public housing facilities, senior centers, and community centers across the five boroughs.
Completed Stimulus Programs:
NYC Connected Learning served more than 23,000 low-income sixth grade students and 50,000 public school household members from 75 schools with free computers, discounted broadband service, high-quality digital educational resources, and digital literacy training to boost broadband adoption and educational outcomes between 2010 and 2013.
NYC Connected Foundations provided 5,160 high school students who were disengaged from school and not on track to graduate with free computers, comprehensive digital literacy training, and access to discounted broadband service. Through a new, credit-bearing "Connected Foundations" course (also known as "DIG/IT"), the program facilitated sustainable adoption of broadband, and aided students in the transition to a post-secondary pathway at 66 public high schools.