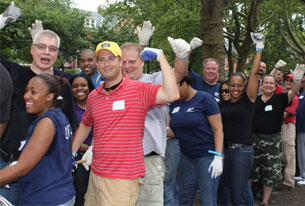 At DoITT, we are committed to rising beyond mere compliance with equal employment opportunity requirements. Our goal is to excel: to serve as a model for diversity and inclusion. DoITT's business is the development and deployment of forward-looking technologies, and it is appropriate that our equal employment and diversity practices be similarly forward-looking.
We believe that differences in age, race, gender, nationality, sexual orientation, physical ability, thinking style and background bring richness to our work environment.
We believe that attracting, developing and retaining a workforce that reflects the diversity of New York City will enhance our success.
Achieving and maintaining workforce diversity is a process that requires a continual renewal of our commitment to strategies of inclusion. Diversity and inclusion requires our commitment to the three stages of employment:
We seek to recruit the best available talent for every position we fill.
We week to hire the best qualified candidate for every position we fill.
We seek to retain top talent through professional development programs and career advancement opportunities.
We foster an inclusive environment that values our differences. We cultivate relationships with a diversity of professional , educational and civic groups to support our recruitment efforts.
For more information: