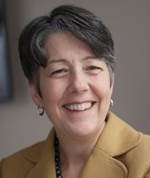 Anne Roest was appointed the eighth Commissioner of the New York City Department of Information Technology and Telecommunications (DoITT) by Mayor Bill de Blasio in May 2014. As Commissioner, Roest is responsible for the City's foundational IT infrastructure and systems as well as oversight of major technology initiatives, including the creation of the largest continuous free WiFi network in the country and expanding access to broadband connectivity across the five boroughs. At DoITT, she leads a 1,200-person staff who meet the information technology needs of 45 Mayoral agencies, dozens of other governmental entities, and nearly 300,000 employees that serve 8.4 million New Yorkers, and reach millions more worldwide.
Roest has had a distinguished career in the information technology field spanning more than three decades. She began her career as a programmer for Fidelity Investments, before continuing on to technology roles at Norstar Bank and Microsoft. In 1986, she joined the New York State Department of Taxation and Finance. During her nearly 20-year tenure as IT director and project director for the agency, Roest spearheaded a massive systems modernization project, including planning, budgeting, staffing, systems development, and the analysis of business processes. In 2005, Roest was appointed as Chief Information Officer and Deputy Commissioner at the New York State Division of Criminal Justice Services, where she was charged with implementing and governing the information technology used for criminal justice and with driving collaboration across all of the state's public safety agencies. In 2008, she received the Alfred E. Smith Award from American Society for Public Administration for her leadership in establishing a disaster recovery program to safeguard the state's public safety operations in the event of a natural disaster or terrorist attack.
Roest was appointed as the Public Safety Cluster Chief Information Officer at the New York State Office of Information Technology Services in 2012, where she continued her work to improve, transform, and consolidate information technology programs and resources across New York State public safety agencies. Roest was recently named to the Technology Hall of Fame at the New York State Government Technology Conference.