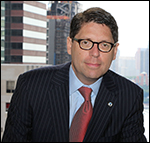 Mark G. Peters was nominated as DOI Commissioner by Mayor Bill de Blasio in January 2014, confirmed by the New York City Council in February, and took office on February 18, 2014.

As DOI Commissioner, Mr. Peters leads an agency with oversight of more than 300,000 City employees in 45 City agencies and dozens of Boards and Commissions, and includes the Office of the Special Commissioner of Investigation for the New York City School District, which monitors the Department of Education's 135,000 employees; the Office of the Inspector General for the New York City Housing Authority; and the Office of Inspector General for the New York City Police Department, a unit that was established in 2014.
Click here to see the Local Law establishing the NYPD IG Office.

Since taking office, Mr. Peters has opened large-scale investigations into several areas, including examining violence and contraband smuggling at Rikers Island and investigating delays and cost overruns of the City's Emergency Communications Transformation Program. Under his guidance, DOI has arrested day care operators for falsifying information submitted to the City, conducted a post-mortem of the CityTime investigation to cull the lessons learned and strengthen the City's procurement of large technology contracts, and exposed widespread bribery schemes involving buildings and housing employees, and property managers and owners, which resulted in dozens of arrests (read more about that investigation here).
Commissioner Peters' diverse legal career spans the public and private sectors. Prior to his appointment at DOI, he was in private practice advising clients in the insurance and financial services industry on a wide variety of matters including compliance and internal investigations. Commissioner Peters previously served as the Special Deputy Superintendent in Charge of the New York Liquidation Bureau, the agency that manages insolvent insurance companies on behalf of the state. He oversaw reform of the agency's operations including the implementation of a new internal control audit, adoption of State legislation requiring yearly audits of the agency's finances, and recovery of hundreds of millions of dollars previously owed to the Bureau. Commissioner Peters also served on the New York State Commission on Public Integrity, the agency that oversees lobbying and state-government ethics rules.

Commissioner Peters is a former prosecutor at the New York State Attorney General's Office where he served as Chief of the Public Corruption Unit and Deputy Chief of the Civil Rights Bureau. In those roles he oversaw cases against a range of companies that diverted public funds, and against public officials, including police departments, that violated state and federal laws, and he prosecuted members of a political organization that diverted AIDS funding to election campaigns. He brought the first-of-its-kind case against one of the largest sub-prime lenders in the state and prosecuted a union that denied equal work opportunities, forcing it to pay more than $2.6 million in back wages to its workers.

Earlier in his career, he served as Senior Staff Attorney at Children's Rights, Inc., a national watchdog organization advocating on behalf of abused and neglected children in the United States, and clerked for the Hon. Charles P. Sifton of the United States District Court for the Eastern District of New York.

Commissioner Peters earned his undergraduate degree from Brown University and his law degree from the University of Michigan Law School.