Press Release

New York City Department of Health
and Mental Hygiene
Office of Communications
FOR IMMEDIATE RELEASE
CONTACT: Sandra Mullin/Sid Dinsay
Business Hours (212) 788-5290
After Business Hours (212) 764-7667
Monday, November 22, 2004

MOST WTC HEALTH REGISTRY ENROLLEES REPORTED NEW OR WORSENED RESPIRATORY SYMPTOMS AFTER 9/11/01
Data also show mental health symptoms present among enrollees at significantly higher rate than NYC average; further analyses needed to determine whether health symptoms persisted post-9/11/01
NEW YORK CITY - November 22, 2004 - Most enrollees in the World Trade Center Health Registry reported having one or more respiratory problems that either began or got worse in the weeks and months after the September 11, 2001 terrorist attacks in New York City, according to the latest quarterly report issued today by the New York City Department of Health and Mental Hygiene (DOHMH). In addition, about 8% of adults enrolled reported symptoms of psychological distress in the thirty days prior to being interviewed for the Registry - a rate 60% higher than the citywide average of 5% The report, "Data Snapshot: Understanding The Health Impact Of 9/11" can be found online at http://www.nyc.gov/html/doh/downloads/pdf/wtc/wtc-report2004-1112.pdf.
Joining DOHMH Commissioner Thomas R. Frieden, MD, MPH for today's announcement were Nicholas Scoppetta, Commissioner of the New York City Fire Department (FDNY); Lorna Thorpe, Ph.D., Deputy Commissioner of Epidemiology for DOHMH; Peter Gorman, President, Uniformed Fire Officers Association; Lou Matarazzo, Legislative Director, Detectives' Endowment Association; and Peter Yee, Associate Executive Director of Hamilton-Madison House.
DOHMH Commissioner Frieden said, "More than 70,000 people have enrolled in the World Trade Center Health Registry, and it is by far the most comprehensive project of its kind. On behalf of all New Yorkers who want to know what the long-term health effects of 9/11 are, we thank every Registry participant for their cooperation. We now know that tens of thousands of Registry enrollees reported significant respiratory and mental health symptoms. Whether these symptoms persist at present - and for how long they will persist - will require further investigation, and much more needs to be done before definitive conclusions can be drawn. We will work with the federal government to ensure that funding continues for this historic effort."
"The formal enrollment phase of the Registry has ended, and we can now begin further investigations," said Dr. Henry Falk, Director of the Agency for Toxic Substances and Disease Registry and the CDC's National Center for Environmental Health. "This group of more than 70,000 people represents a wide spectrum of those who had first-hand exposure to the events of 9/11/01. Our goal is improved health, and with this body of data, we can begin to identify trends and patterns of illness or disease that might otherwise go undetected or undocumented, and discover potential ways to prevent or treat these problems in the future."
As of September 10, 2004, Registry staff completed interviews with 61,087 enrollees representing all 50 states, Puerto Rico and at least nine other countries. Final interviews were conducted the week of November 15th with people who volunteered for the Registry prior to the deadline.
The health data presented in the quarterly report are preliminary, and further analysis is required to verify these findings. Registry staff will follow up with enrollees for 10-20 years to more fully understand the impacts of these physical and mental health problems; in addition, these data will be made available to other 9/11-related health projects.
"The World Trade Center Health Registry is a powerful tool in helping the City's health professionals identify and respond to any long-term health issues related to 9/11/01," said Fire Commissioner Nicholas Scoppetta. "In addition to the monitoring performed by the FDNY's own health professionals, we encouraged our membership to enroll and become part of this important program. Monitoring long-term health effects is the key to ensuring that we fully understand the health consequences for all who were impacted by the events of that day."
New and Worsened Health Symptoms Among Adult Enrollees Since 9/11/01
Of the 57,359 adults enrolled in the Registry as of September 10, 2004, significant percentages of enrollees* reported having at least one new or worsened physical health symptoms post-9/11/01. These included sinus problems or nasal/post-nasal irritation (47%), shortness of breath (42%), and throat irritation and wheezing (38%). There were also high rates of other respiratory problems, including persistent cough and eye irritation. Case rates were mostly higher among women than in men for most symptoms.
| Symptoms Reported | Male (n=33,926) | Female (n=23,433) | Total (n=57,359) |
| --- | --- | --- | --- |
| Sinus problems; nasal or post-nasal irritation | 44% | 50% | 47% |
| Shortness of breath | 41% | 43% | 42% |
| Throat irritation | 37% | 40% | 38% |
| Wheezing | 39% | 37% | 38% |
| Persistent cough | 37% | 37% | 37% |
| Eye irritation | 30% | 37% | 33% |
| Heartburn, indigestion, reflux | 25% | 25% | 26% |
| Severe headaches | 17% | 27% | 21% |
| Skin rash or irritation | 13% | 16% | 14% |
| Hearing problem or hearing loss | 10% | 8% | 9% |
Psychological Distress Symptoms Among Adult WTCHR Enrollees
Eight percent of adults enrolled in the Registry reported symptoms consistent with serious psychological distress within 30 days of the time they were interviewed - a higher rate than the citywide average of 5%. The data presented by the Registry strongly suggest that direct exposure to the events of 9/11/01 had a measurable mental health impact on these enrollees.
Among enrollees overall, more women than men reported psychological distress (ten percent vs. six percent). Further analysis - e.g. a demographic comparison of Registry findings to similar citywide data - is needed to better understand the types of psychological distress among Registry enrollees.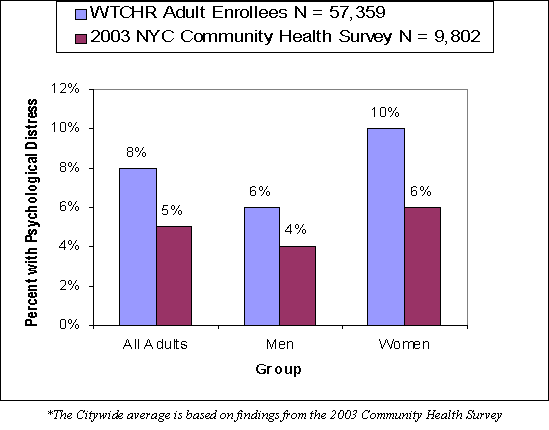 Most people exposed to a traumatic event may continue to suffer symptoms of distress and may have impaired abilities to function long after a disaster. Those who recognize these symptoms in themselves should contact a mental health professional or call 1 (800) LIFENET (800-543-3638). Spanish speakers may call 1 (877) AYUDESE (877-298-3373); Chinese speakers may call 1 (877) 990-8585.
Other Key Findings
48% of enrollees who were below Chambers Street on 9/11/01 report sustaining some type of injury, the most common of which was eye injury or irritation.
The largest proportion of enrollees were people in a building, on the street, or in mass transit south of Chambers Street on 9/11/01 (62%), followed by people involved in rescue, recovery and cleanup activities at the WTC site or on Staten Island, or on a barge (42%). 21% of enrollees lived south of Canal Street on 9/11/01.
About the World Trade Center Health Registry
The WTCHR was launched on September 5, 2003, to track the health of residents, workers and others who were directly exposed to the collapse of the World Trade Center, or of those who worked at the WTC site, at the recovery operations on Staten Island or on barges that transported debris.
To date, over 70,000 people have enrolled by completing a 30-minute telephone survey including questions on where they were on September 11, 2001, how long they were in areas with smoke and fumes, and whether they have had any health problems since. WTCHR enrollees will be periodically contacted to answer questions about any changes in their physical or mental health status.
Findings drawn from the World Trade Center Health Registry will enable researchers to observe patterns that may otherwise be invisible to individual physicians. All information given will be kept strictly private and confidential, and no medical examinations or tests were required for initial enrollment.
The World Trade Center Health Registry is a collaborative effort between DOHMH and the federal Agency for Toxic Substances and Disease Registry (ATSDR), with funding provided by the Federal Emergency Management Agency (FEMA). Visit http://www.wtcregistry.org for more information on the Registry.
###
#151