Press Release

New York City Department of Health
and Mental Hygiene
Office of Communications
FOR IMMEDIATE RELEASE
CONTACT: Sandra Mullin/Sid Dinsay
Business Hours (212) 788-5290
After Business Hours (212) 764-7667
Wednesday, September 15, 2004

"EMILY" TOPPLES "ASHLEY" AS TOP NYC BABY GIRL NAME AFTER 10+ YEARS; "MICHAEL" CONTINUES TO BE MOST POPULAR NAME FOR NEWBORN BOYS
In Another First, City Health Department Also Issues 2002 and 2003 Baby Name Lists
NEW YORK CITY - September 15, 2004 - Over 580 newborn girls were named "Emily" in 2003, making it the most popular baby name in the City and knocking "Ashley" from the top spot for the first time since 1992, according to data released today by the New York City Department of Health and Mental Hygiene (DOHMH). But despite the regime change on the girls' side, "Michael" continued his reign as the most popular name for baby boys, besting "Justin" for the fifth year in a row.
Of the 124,345 babies born in New York City during 2003, 51% were boys, and 49% were girls. The number of live births is up from 122,937 in 2002, a 1.01% increase in births.
Among 60,554 girls born in New York City in 2003, Emily was the most popular girls' name overall, although it failed to take the top spot among Hispanics (Ashley), blacks (Kayla), whites (Sarah) and Asian & Pacific Islanders (Michelle, for the third consecutive year).
Emily made her first top ten appearance in 1995, and save for a setback in 2000 (when she dropped from third to fourth), gradually climbed to the top spot. Perhaps reflecting the waning cachet of reality TV shows, Nicole and Jessica continued their trek south on the lists (7th to 8th, and 8th to 10th, respectively). Michelle dropped off completely (11th) despite remaining first among Asians & Pacific Islanders.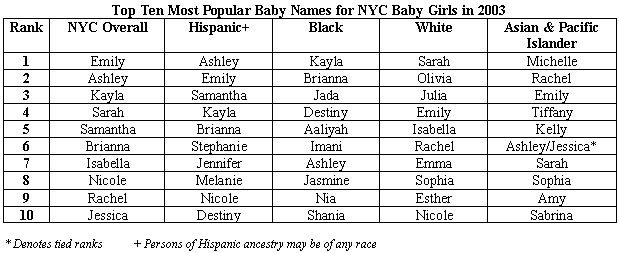 Michael remained the most popular name among the 63,791 baby boys born in 2003, and stayed atop the list for whites. Justin was number two overall and remained the top name among Hispanics and blacks. Kevin won the baby boy name game among Asian & Pacific Islanders, while coming in 10th overall.
Nicholas completely disappeared from the top ten list (from 9th in 2002 to 11th last year), while the top five (Michael, Justin, Daniel, Matthew and Christohper) have remained unchanged since 2002. Anthony and David have both stepped it up (10th to 7th, and 7th to 6th, respectively), while Joseph sank from 6th in 2002 to 9th in 2003. And variations on a theme allowed both Andrew (5th) and Andy (10th, shared with William) to nab top ten spots among Asians & Pacific Islanders.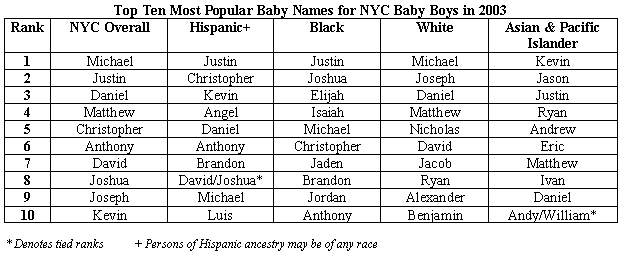 2002 and 2003 Most Popular Baby Names
Today the Health Department also released, for the first time ever, a complete list of the most popular baby names - i.e., those with a frequency of ten or more - for the years 2002 and 2003, broken down by race and sex. To find out if your baby's name made the list, or if you want some inspiration or guidance in naming your new baby, please visit http://www.nyc.gov/html/doh/html/vr/vr.shtml.
Moniker Madness for the Nomenclaturally Nosy - 2003 Edition
Brian (21st overall) beat Bryan (37th), but Ryan bested them both (12th). Bryant? 117th.
While 2003 wasn't a presidential election year, John (17th overall) topped George (66th), with Ralph bringing up the rear (155th).
There were more Jonathans (ranked 14th overall) than Johns (17th), but there were fewer Johnathans (138th) than Johnnys (137th). Jon (159th) beat Jan (161st) and Jun (167th) and, for that matter, Jhon (168th). Juan came in 50th overall, while Jonah was 123rd - and Jonas, 164th.
Jennifer (19th overall) bested Jenna (75th), Jenny (86th), and Jennie (145th). There was no appearance on this particular list - not even an abbreviated one - by "Jen" (although it's possible that there were fewer than ten newborns named Jen in 2003).
There was no Hope (139th overall) to overcome Destiny (23rd), which also topped Destinee (143rd). And what's more precious than Precious (124th)? The answer: Diamond (96th), Crystal (68th), Krystal (119th) and yes, Cristal (139th). Pearls too - at 123rd overall. Not to be outdone, Tiffany came in 41st.
The City isn't just a Rose (127th overall) garden - here too grows Lily (83rd), Daisy (87th), Ivy (122nd), Iris (133rd), and Violet (135th). Also in this Eden (tied for 127th) grows Joshua (8th overall for boys), as in tree.
In entertainment news, it's not a simple life for Paris (126th overall for girls), a far less popular name than Nicole (8th). And as usual, Jessica (10th overall for girls) gets top billing over Nick (165th for boys) - although Nicholas is ranked 11th.
The spirit of Aaliyah (55th overall) topped Beyonce (146th), Whitney (145th), Mariah (102nd), Britney (94th), Alicia (88th), Shania (86th) and Mya (67th), but not Christina (46th). Madonna didn't materialize on this list, so we doubt Esther (29th) would want to change her name. And among boys, Justin (2nd overall) may no longer be in sync, but Omarion and Usher (tied with over 60 others for 168th) are on the charts.
For the sci-fi set, George (66th) beat Lucas (68th). And while Luke (71st) used the force, Kirk beamed off the list completely.
Most popular names for girls and boys, beginning with A and Z? Ashley and Anthony (2nd and 6th, respectively); and Zoe and Zachary (64th and 53rd).
Helping Parents Keep Their Babies Safe and Healthy
Parents of every baby who receives a birth certificate in New York City also receive information from DOHMH about steps to take to keep their child safe and healthy, including avoiding second-hand smoke, information on sudden infant death syndrome (SIDS), immunization schedules, lead poisoning prevention, and window guard information.
"Have a Healthy Baby" is a priority intervention in Take Care New York, a comprehensive health policy for the City. Visit http://www.nyc.gov/html/doh/html/tcny/tcny10.shtml for more information.
DOHMH's Bureau of Vital Statistics compiled the baby name lists using information on birth certificates. Each year, the list of most popular baby names is published in DOHMH's Annual Summary of Vital Statistics. The Summary is generally published 12 months after the year of focus to allow the time required for validating the reporting, compiling, and preparing of data. The New York City Summary of Vital Statistics has been published annually since 1932.
For more information about NYC vital statistics, visit http://www.nyc.gov/html/doh/html/vs/vs.shtml.
Call 311 and ask for the Women's Health Line, or visit http://www.nyc.gov/html/doh/html/ms/ms.shtml for more information on maternal, infant and reproductive health in New York City.
###
#125