Press Release

New York City Department of Health
and Mental Hygiene
Office of Communications
FOR IMMEDIATE RELEASE
CONTACT: Sandra Mullin/Monique Duwell
Business Hours (212) 788-5290
After Business Hours (212) 764-7667
Friday, January 30, 2004
DEATHS IN NEW YORK CITY REACHED HISTORIC LOW IN 2002
Department of Health and Mental Hygiene Presents Annual Summary of Vital Statistics for 2002
NEW YORK CITY – January 30, 2004 – The New York City Department of Health and Mental Hygiene (DOHMH) today announced that the number of deaths registered in New York City in 2002 reached a historic low of 59,651, down from 62,964 in 2001, which included 2,746 deaths from the World Trade Center disaster. Births declined again in 2002 to 122,937, the lowest number of births since 1986. These and other health data were published in DOHMH's Summary of Vital Statistics for 2002, an annual report of birth, deaths, causes of death, and other vital data for New York City.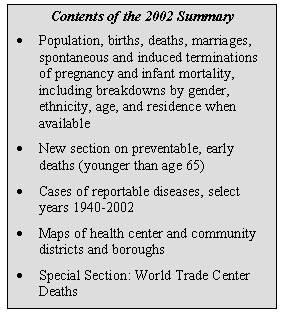 DOHMH Commissioner Dr. Thomas R. Frieden said, "While the overall number of deaths declined in 2002, more than 18,000 New Yorkers died before they reached age 65. Most of these deaths were preventable. More than half were caused by cancer, heart disease or HIV/AIDS. Nearly 1 out of every 6 New Yorkers who died was killed by tobacco."
Births in New York City, 2002
There were 122,937 live births in New York City in 2002, approximately 1,000 fewer births than in 2001. The number of births was down among all races/ethnic groups except Asians, whose number of births increased by approximately 5% from 2001-2002. Mirroring national trends, births to teenagers continued to decrease in 2002. As previously reported, the City's infant mortality rate (IMR) also reached a new low of 6.0 infant deaths per 1,000 live births in 2002, although significant racial and ethnic disparities persist.
Leading Causes of Deaths in New York City, 2002
In 2002, the five leading causes of death for New Yorkers in 2002 remained the same as in 2001: heart disease, cancer, influenza/pneumonia, stroke and HIV/AIDS. For individuals under age 65, the leading cause of death among all ethnic groups was cancer, followed by heart disease. Of nearly 5,000 cancer deaths in this age group, more than one in five were attributed to lung cancer, followed by breast and colon cancers. Nearly all colon cancer deaths can be prevented by colonoscopy, and 80-90% of lung cancer is the result of tobacco use.
Risk of cancer declines steadily when smokers quit. HIV disease and poisoning by psychoactive substances (e.g., cocaine, heroin, opiates) were also among the leading causes of death.
Cancer deaths accounted for about one-third (34%) of deaths among women and 22% of deaths among men in the under-65 age group. Heart disease was the number one killer for men under 65, accounting for 22% of those deaths.

HIV/AIDS Deaths in New York City, 2002
HIV/AIDS was the leading cause of death among women ages 25-34 years and among men age 35-44 years. In 2002, the total number of HIV/AIDS deaths declined from 1,774 to 1,712 deaths (about 4%). In women, HIV/AIDS deaths decreased nearly 6% from 608 to 574, and in men, deaths declined slightly (about 2%), from 1,166 to 1,138.
HIV/AIDS is the 3rd leading cause of death among Blacks, who comprised half of deaths due to HIV/AIDS with 872 (down from 911 in 2001). Deaths from HIV/AIDS also decreased among whites, but increased slightly among Hispanics from 490 deaths in 2001 to 502 deaths in 2002.
Flu/Pneumonia Deaths in New York City, 2002
For the fifth consecutive year, flu/pneumonia was the third leading cause of death among New Yorkers. The vast majority (75%) of flu and pneumonia deaths occurred in the elderly (especially those over the age of 75) and accounted for 1,888 of the 2,508 pneumonia deaths. In children, ages 1-14 years, there were 12 flu & pneumonia deaths in 2002, making it the sixth leading cause of death in this age group.
Other Highlights
World Trade Center Deaths: As of October 31, 2003, the number of deaths caused by the WTC disaster was 2,749, including 3 deaths occurred outside New York City.
Mental Hygiene: Death by poisoning from psychoactive substances continues to be a leading cause of death, particularly among New Yorkers ages 15-54.
Homicide: Homicides declined by nearly 100 from 2000-2002. However, homicide persisted as the number one killer of men ages 15-34 years.
Leading Causes of Death by Race/Ethnicity: Heart disease and cancer are the leading causes of death among all races/ethnic groups.
West Nile Virus: In 2002, there were 29 cases of West Nile Virus and 3 WNV-related deaths.
The 2002 Summary is available on-line at http://www.nyc.gov/html/doh/downloads/pdf/vs/2002sum.pdf. For more information on New York City Vital Statistics, visit http://www.nyc.gov/html/doh/html/vs/vs.shtml. Form information on how to obtain a birth or death certificate, visit nyc.gov/health or call 311.
###
#005