Press Release

New York City Department of Health
and Mental Hygiene
Office of Communications
FOR IMMEDIATE RELEASE
CONTACT: Sandra Mullin/Monique Duwell (DOHMH)
Business Hours (212) 788-5290
After Business Hours (212) 764-7667
Tuesday, January 13, 2004
CHILDHOOD ASTHMA HOSPITALIZATION RATE DECREASES 44% IN PAST DECADE, BUT GEOGRAPHIC DISPARITIES PERSIST
NEW YORK CITY - January 13, 2003 – The childhood asthma hospitalization rate in New York City reached a low of 6.02 per 1,000 children ages 0-14 in 2002, a 2% decrease from 2001, and a 44% decrease since 1993, and the lowest rate since statistics began to be kept in 1984, according to data released today by the New York City Department of Health and Mental Hygiene (DOHMH). In 2002, there were 9,821 asthma-related hospitalizations of children under 14 years of age, compared with 10,034 hospitalizations in 2001 and 15,958 hospitalizations in 1993. DOHMH continues to support a comprehensive asthma initiative to encourage asthma self-management, particularly among children who live in high-risk neighborhoods, such as the South Bronx and East Harlem.
DOHMH Commissioner Dr. Thomas Frieden said, "While significant declines in preventable childhood asthma hospitalizations during the past decade are encouraging, asthma remains one of the leading child health problems in New York City and unacceptable disparities persist. The asthma hospitalization rate among children under five years of age living in low-income neighborhoods is four times that of children living in high-income neighborhoods. Asthma can be controlled and almost all people with asthma can lead normal lives if effectively treated. DOHMH will continue to focus not only on reducing the overall rate of childhood asthma hospitalization, but also on prioritizing interventions to those most in need."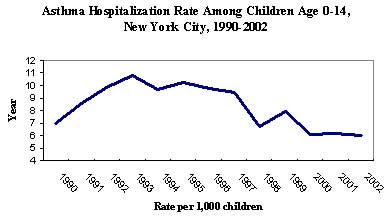 Lorna E. Davis, MS, Director of DOHMH's Asthma Initiative, said, "Well-managed asthma reduces the risk of emergency department visits and hospitalizations. The decline in hospitalization rates suggests that improvement in asthma management is keeping kids out of the hospital. While the exact cause of asthma remains unknown, asthma can be controlled by using the right medications and by avoiding asthma triggers. Controlling asthma requires that patients, their families, and health care providers work as a team to design a management plan and carry it out every day, even when symptoms are not present."
Asthma Hospitalization by Borough/Neighborhood
In 2002, the Bronx had the highest rate of childhood asthma hospitalizations (9.7 per 1,000), followed by Manhattan (5.8), Brooklyn (5.5), Queens (4.6), and Staten Island (2.8). Crotona-Tremont in the Bronx had the highest individual neighborhood hospitalization rate (11.7), while Borough Park in Brooklyn had the lowest (1.0).
East Harlem, a neighborhood with a historically high asthma hospitalization rate for more than a decade, experienced a 33% decrease and approximately 100 fewer child hospitalizations in 2002 compared with 2001. From 1993 to 2002, rates in East Harlem fell 74%. Other areas with historically high asthma hospitalization rates also saw large decreases from 1993-2002, including the South Bronx, Central Harlem, and Central Brooklyn.
How to Control Asthma Among Kids and Adults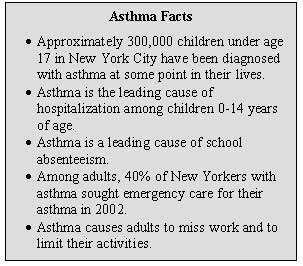 DOHMH recommends the following steps to help prevent asthma-related emergency department visits, hospitalizations, and school and work absences:
Ask your doctor about long-term control medications if you have frequent asthma symptoms (i.e., symptoms on more than 2 days per week or nighttime symptoms more than 2 nights per month). Any patient with asthma symptoms more than 2 days per week should use an anti-inflammatory controller medicine every day, even on days when no symptoms are present.
Work with your (or your child's) doctor to develop an Asthma Action Plan if you do not have a written asthma management plan, or if your asthma medications have changed (Call 311 to receive an Asthma Action Plan for your doctor to complete).
For school-aged children, ask your doctor to complete a school medication authorization form so that medicine is available for your child in school.
Take your medications as directed by your health care provider.
Ask your doctor about taking asthma medicine before you exercise.
Find out what triggers your asthma and how to limit exposure (e.g., if you are allergic to dust mites, use special mattress and pillow covers, or wash bedding regularly to reduce exposure).
Don't smoke, and don't let any one smoke around you or your children, as tobacco smoke can trigger asthma episodes.
To control roaches, instead of using spray pesticides, use other methods, e.g., seal cracks and crevices, use bait stations and gels, and store food in air-tight containers.
Wash your hands regularly to reduce the spread of germs that cause colds and infections.
Get a flu shot every year.
Childhood Asthma Initiative
DOHMH's Childhood Asthma Initiative works through citywide and community-specific interventions to:
Increase children's and caregivers' knowledge about asthma
Enhance asthma self-management skills among children
Decrease childhood asthma hospitalizations and emergency room and urgent care visits
Reduce school absenteeism related to asthma
To target children most at-risk for asthma hospitalization, the Initiative partners with DOHMH's District Public Health Offices and community organizations to enhance asthma support services in high-risk neighborhoods. In addition, the recently launched Health Buddy for Asthma pilot programs in East Harlem and the South Bronx use a telephone-monitoring device to encourage children with asthma and their caregivers to participate fully in asthma management. The Asthma Initiative also works directly with medical providers to ensure proper asthma diagnosis and treatment and with schools to promote asthma education programs.
For more information on asthma and the Childhood Asthma Initiative, including education materials and tools for asthma management, visit nyc.gov/health/asthma or call 311.
###
#001