Press Release

New York City Department of Health
and Mental Hygiene
Office of Communications
FOR IMMEDIATE RELEASE
CONTACT: Sandra Mullin/Andrew Tucker
Business Hours (212) 788-5290
After Business Hours (212) 764-7667
Monday, April 21, 2003
NEW YORKERS ARE LIVING LONGER
City Health Department's Vital Statistics Report Shows Dramatic Increase in Life Expectancy of New Yorkers in Past Decade; Life Expectancy Rate is Highest in New York City's History and Higher than National Average for First Time in 60 Years
NEW YORK CITY - April 21, 2003 - The New York City Department of Health and Mental Hygiene (DOHMH) today announced that life expectancy for New Yorkers has increased markedly for both women and men over the past decade. Life expectancy for females born in 2000 in New York City is 80.2 years, an increase of 3.2 years from 1990. Life expectancy for males born in 2000 in New York City is 74.5 years, a dramatic increase of 6.8 years from a decade earlier. These increases are attributable in large part to declines in the number of deaths from HIV disease and homicide, as well as the continuing downward trend in the City's Infant Mortality Rate. These data were presented, along with other City vital statistics, in DOHMH's annual Summary of Vital Statistics for 2001. The Summary is an extensive compilation of information on births, deaths and causes of death in New York City and is available online at http://www.nyc.gov/html/doh/downloads/pdf/vs/2001sum.pdf.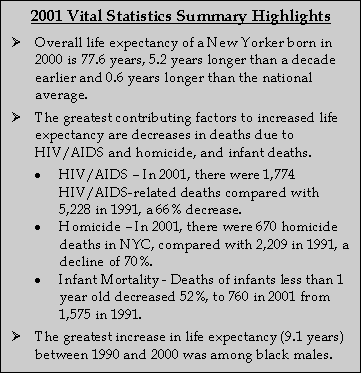 There were 62,958 deaths recorded in New York City in 2001, 2,740 of which were associated with the World Trade Center (WTC) disaster. Not including the WTC-related deaths, the total of 60,218 deaths would have been the lowest number ever recorded in New York City.
DOHMH Commissioner Dr. Thomas R. Frieden said, "The life expectancy of a New Yorker born in 2000 is greater than the national average by more than half of a year (77.6 vs. 77.0 years). Additionally, there was a substantial reduction in health disparity during the decade, with African-American males gaining 4 more years of life expectancy than white males. However, unacceptable health disparities persist, with African-American males dying nearly 6 years younger than white males."
Leading Natural Causes of Death in New York City, 2001
Smoking remains the leading preventable cause of death in New York City, causing about 14% of all deaths from heart disease and one quarter of all cancer deaths, including 80% of lung cancer deaths. In 2001, heart disease persisted as the leading cause of death among females and males, accounting for 24,203 (about 40%) total deaths in New York City, and also remained the leading cause of death among all ethnic groups. Colon cancer killed nearly 1,600 New Yorkers in 2001 and claimed the lives of more non-smokers than any other cancer.
Deaths from HIV disease continued to decline in 2001, with 1,774 recorded deaths, moving one spot down to become the fifth leading cause of death in New York City. HIV/AIDS continues to affect communities of color disproportionately with the highest rates of HIV infection occurring among young black and Hispanic men.

Births in New York City, 2001
In 2001, a total of 124,023 births were registered in New York City. There were 10,386 births among teenagers in New York City in 2001, 414 fewer than in 2000 and continuing the downward trend of the past several years. In 2001, the proportion of all live births to teenagers (8.4%) was at its lowest level since 1981; this decline mirrors national trends. As announced in December 2002, the New York City Infant Mortality Rate (IMR) for 2001 dropped to a new low of 6.1 infant deaths per 1,000 live births - a decrease of 9% compared with the 2000 IMR of 6.7. This announcement can be found on DOHMH's website at http://www.nyc.gov/html/doh/html/press_archive02/pr1081212.shtml.
Other Highlights
The 2001 Summary includes a more comprehensive section on deaths associated with the World Trade Center (WTC) disaster and the American Airlines Flight 587 tragedy. Data on deaths caused by the WTC disaster are based on 2,740 death certificates filed with DOHMH's Office of Vital Records through February 21, 2003. New data reported on WTC-related deaths includes information on occupation of decedents.
The 2001 Summary is a collection of information from birth, death, and termination of pregnancy certificates compiled by DOHMH's Bureau of Vital Statistics. Tables, graphs, and figures present New York City health statistics in aggregate and according to ethnicity, gender, age, health center district and borough of residence. The Summary is generally published twelve months after the year of focus to allow the time required for validating the reporting, compiling, and preparing of data.
This year, the Summary is being published later due to the availability of new Census data for 2000 as well as continuing issues with regard to data preparation for deaths related to the WTC disaster and American Airlines Flight 587 crash. The New York City Summary of Vital Statistics has been published annually since 1932. The 2001 Summary is available electronically at http://www.nyc.gov/html/doh/html/vs/vs.html.
***TECHNICAL NOTE ON LIFE EXPECTANCY***
Life expectancy for 2000 is estimated using 3 years of death data (1999-2001), and does not include WTC-related deaths. Though WTC-related deaths do not change any of the declining death trends mentioned in this release, if counted among deaths in 2001, life expectancy for men would decrease by 0.2 years (74.3) and would remain the same for women. A separate table on life expectancy that includes WTC-related deaths is presented in the 2001 Summary.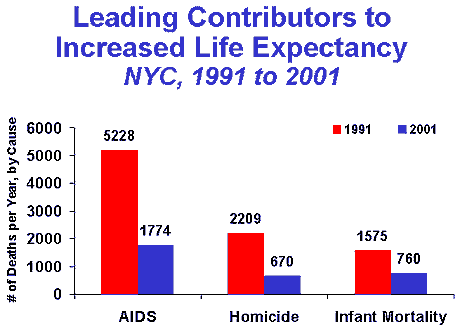 ###
#037