Press Release
New York City Department of Health
Office of Public Affairs
FOR IMMEDIATE RELEASE
CONTACT: Sandra Mullin/Greg Butler
Thursday, May 16, 2002
(212) 788-5290
(877) 640-1347
NYC DEPARTMENT OF HEALTH JOINS
COMMUNITY PARTNERS AT LAUNCH OF
INFANT MORTALITY INITIATIVES IN BROOKLYN
At a ceremony at Brookdale Hospital in North Central Brooklyn today, New York City Department of Health (DOH) Commissioner Thomas R. Frieden, MD, MPH, joined community partners to mark the launch of two DOH initiatives – the Infant Mortality Reduction Initiative and Healthy Start Brooklyn – focused on reducing infant mortality disparities in Brooklyn neighborhoods.
Dr. Frieden said, "While New York City's infant mortality rate is at an all time low, some communities continue to have unacceptable high rates. We must make sure that the causes of disparities in health outcomes are addressed. This includes the promotion of women's health before, during, and after pregnancy. "
As part of the Brooklyn Initiative, DOH is expanding outreach efforts to the public and medical providers in communities that have had higher rates of infant mortality, including the implementation of:
Case management, coordination of perinatal networks, consortium of community providers, agencies and consumers, interconceptional and post-partum depression services through Healthy Start Brooklyn, in partnership with Brooklyn Perinatal Network, Inc., Caribbean Women's Health Association, Inc., Kings County Hospital Center and Brookdale University Hospital and Medical Center;
An education curriculum for providers and community groups to aid in the provision/referral of pre-natal care and raise awareness of the factors that contribute to infant mortality, in particular the health of women before pregnancy (preconception health); and
A public education campaign developed in collaboration with local community-based organizations promoting DOH Women's Health Line – (212/718 230-1111) – which provides information on reproductive issues and appointments for prenatal care.
2000 Brooklyn Infant Mortality Data
In 2000, at 6.7 deaths/1,000 live births, New York City's Infant Mortality Rate (IMR) was the lowest ever recorded. IMRs, however, vary by neighborhood. Historically, rates fluctuate from year to year, particularly in those neighborhoods where they are based on relatively small numbers of infant deaths. Nevertheless, a contiguous swath of five health center districts in Brooklyn has continued to experience IMRs higher than the City's average each of the past five years, underscoring the need for targeted intervention:
5-Year Citywide IMR Average (1996-2000) in Selected Brooklyn Health Center Districts Compared to the 5-Year Citywide IMR Average of 7.06 Deaths/1,000 Live Births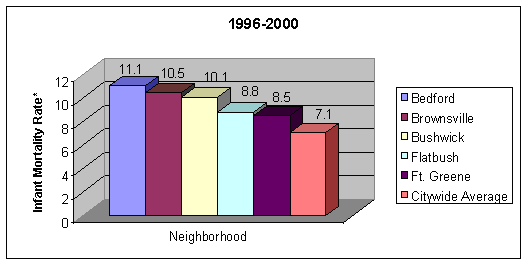 *- Infant Mortality Rate = number of infant deaths per 1,000 live births
Please see attached table for complete neighborhood breakdown of infant mortality rates.
Additional Health Department Efforts to Reduce Infant Mortality
DOH has a number of other public health prevention initiatives that target women of child bearing age, including: the Women's Healthline, (212/718 230-1111) a multilingual telephone service that provides information on a range of reproductive issues as well as referral for health care and appointments for prenatal care; and Maternal, Infant, and Reproductive Health Program Field Sites which provide free pregnancy testing and intensive outreach to pregnant women through health education, counseling, workshops, and case management services from pregnancy through the first year of the infant's life. In addition, the Health Department participates in the Pregnancy Risk Assessment Monitoring System (PRAMS), a federally-sponsored project that identifies and monitors selected maternal experiences and behaviors that occur before, during, and after pregnancy.

#23