Press Release
New York City Department of Health
Office of Public Affairs
FOR IMMEDIATE RELEASE
CONTACT: Sandra Mullin/Andrew Tucker
Thursday, April 18, 2002
(212) 295-5335/5336 (DOH)
CITY HEALTH DEPARTMENT RELEASES
SUMMARY OF VITAL STATISTICS 2000
The New York City Department of Health (DOH) today released its Summary of Vital Statistics for 2000. The 60,839 deaths in 2000 was the lowest number of deaths ever recorded in New York City. The Summary is an extensive compilation of information on births, deaths, and causes of death in New York City.
This year's publication also includes a special report with preliminary data on deaths caused by the World Trade Center disaster. These data reflect demographic characteristics of persons who died, including age, residence, and birthplace. The 2,617 individuals included in this preliminary report are those for whom a death certificate was filed through January 25, 2002, and have been classified as "homicide deaths."
DOH's 2000 Summary is a collection of information from birth, death, and termination of pregnancy certificates computed and compiled by the Health Department's Office of Vital Statistics. Tables, graphs, and figures provide New York City health statistics according to ethnic group, gender, age, health center district, and borough of residence
Leading Causes of Death in New York City in 2000
More than 12,000 New Yorkers died of tobacco-related causes such as heart disease and lung cancer; this represents one of every five deaths and about a third of all preventable deaths. In 2000, heart disease persisted as the leading cause of death among both females and males, accounting for 24,768 (41%) of total deaths in New York City. Heart disease remained the leading cause of death among all ethnic groups.
| | | | |
| --- | --- | --- | --- |
| Cause of Death | Deaths Among Females | Deaths Among Males | Total |
| Disease of the Heart | 13,603 | 11,165 | 24,768 |
| Malignant Neoplasm (Cancer) | 7,259 | 6,841 | 14,100 |
| Influenza and Pneumonia | 1,211 | 1,056 | 2,267 |
| HIV Disease | 1,333 | 628 | 1,961 |
| Cerebrovascular Disease | 1,142 | 818 | 1,960 |
Smoking is the No. 1 Cause of Premature Death in NYC
(30% of all preventable deaths)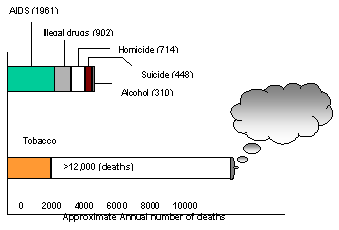 Deaths from HIV Disease dropped from more than 7,000 in 1994 to 1,961 in 2000, making it the fourth leading cause of death in 2000. HIV/AIDS continues to affect communities of color disproportionately with the highest rates of HIV among black and Hispanic young men who have sex with men (MSM) of color.
Infant Mortality in New York City in 2000
The Infant Mortality Rate (IMR) varies by neighborhood and by year. Rates are based on relatively small numbers of infant deaths and therefore year-to-year fluctuations may represent random variations rather than significant trends. At 6.7 infant deaths per 1,000 live births, the IMR in New York City for 2000 is the lowest ever in the City's history. However, unacceptably large disparities in IMR persist: infants born in the neighborhood with the highest IMR (Fort Greene) are nearly four times as likely to die as infants born in Maspeth-Forest Hills, the neighborhood with the lowest IMR. The IMR decreased 2.9% from 1999, and represents a 42% decline from the IMR in 1990 (11.6). The 2000 IMR is based on a total of 839 infants who died at less than one year of age out of 125,563 live births. Of these 839 infants who died, 583 (69%) died in the first 28 days of life.
The neighborhoods with the highest IMR in New York City were Fort Greene (10.6), Central Harlem (10.3), Jamaica East (10.0), Brownsville (9.6), and Bedford (9.4). Jamaica East and Brownsville IMRs were significantly higher than the citywide average. Five areas had IMRs significantly lower than the citywide average. These areas were Maspeth-Forest Hills (2.7), Sunset Park (2.9), Riverside (2.9), Lower East Side (3.1), and Kips Bay-Yorkville (3.4). See attached table of IMR by Health Center District for 1990, 1995, 1998-2000:
By Health Center District, Deaths under one year of age per 1,000 live births, 2000 (Infant Mortality Rate)
Infant Deaths and Infant Mortality Rate by Health Center District of Residence New York City, Selected Years
Births in New York City in 2000
The total number of births registered in New York City increased by 1,824 to 125,563 in 2000. There were 10,800 births among teenagers in New York City in 2000, 345 fewer than in 1999 and continuing the downward trend over the last several years. In 2000, the proportion of all live births to teenagers (8.6%) was at its lowest level since 1981. This decline mirrors national trends.
World Trade Center Disaster Deaths
Preliminary data on the deaths caused by the World Trade Center disaster are based on 2,617 death certificates filed with the DOH Office of Vital Records through January 25, 2002.
Of 2,617 deaths, 2,008 (77%) were males; 609 were females.
1,127 (43%) deaths were New York City residents.
560 (21%) were residents of New York State outside of New York City; 905 (35%) were United States residents from outside of New York State; and 25 were residents of a foreign country.
More than one third (36%) were between the ages of 30 and 44.
The Summary is generally published twelve months after the year of focus to allow the time required for validating the reporting, compiling, and preparing of data. This year, the Summary is being published later because of the WTC disaster impact on DOH's Office of Vital Statistics and since additional time was needed to prepare the special section on the WTC. The New York City Summary of Vital Statistics has been published annually since 1932
The 2000 Summary is available electronically at http://www.nyc.gov/html/doh/downloads/pdf/vs/2000sum.pdf; hard copies are available upon request from DOH's Office of Public Affairs. For more information on New York City Vital Statistics, visit nyc.gov/health.

#19