First Lady Chirlane McCray, Chiara de Blasio and First Deputy Health Commissioner Dr. Oxiris Barbot today announced the launch of NYC Teen Text, a new mental health resource for teens at 10 high schools throughout New York City. Teens at these schools can text "NYC Teen" to 65173 to receive prompt, confidential information and emotional support on issues ranging from feeling sad or hopeless, to depression. The program is available Monday through Friday from 2:30 p.m. to 9 p.m., and on weekends from 1 p.m. to 9 p.m. First Lady McCray, Ms. De Blasio and First Deputy Commissioner Barbot made this announcement at Millennium Brooklyn High School, one of the schools participating in the pilot program.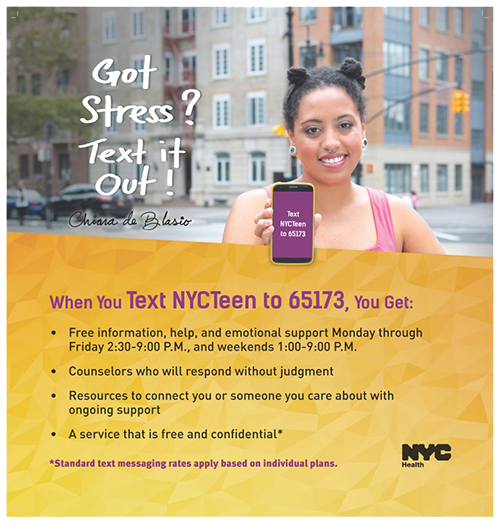 Many New York City teens cope with emotional stress, but few seek help. According to the 2013 Youth Risk Behavior Survey, 27 percent of New York City public high school students reported that they felt sad or hopeless almost every day for two or more weeks. Only 18 percent of these students received help from a counselor. NYC Teen Text provides an avenue for teens that experience stress related to any issue, with mental health support via live text response from LifeNet. A teen concerned about a friend or family member can also reach out to NYC Teen Text for information and support.
"Our goal is to meet teens where they are – and where they are is on their phones," said First Lady Chirlane McCray. "NYC Teen Text will provide our young people with a safe, convenient and confidential way to get in touch with trained crisis counselors when they're feeling overwhelmed. When it comes to helping people access mental health services, we will be more effective if our tools keep up with the times."
"Many New York teenagers aren't yet ready to speak their pain aloud, but they might be ready to text someone who is able to help them," said Chiara de Blasio. "I know from personal experience that reaching out when you're in pain can be the turning point – the first step on the road to recovery. With the launch of NYC Teen Text, the only thing separating 18,000 high school students from the help they need is the 'Send' button. This is a big step forward for New York City, and I am so grateful for the opportunity to help spread the word."
"It's important that young people know that they should reach out for help with emotional issues," said First Deputy Health Commissioner Dr. Oxiris Barbot. "I commend Chiara de Blasio for her courage to share her experience and let teens know that it's okay to talk about their feelings and seek help. We hope that these pilot schools will help spread the message that getting help is okay and easy to do, and that this will provide a foundation for other schools to send a similar message."
NYC Teen Text is available to students at the following schools: High School for Environmental Studies, Stuyvesant High School, High School For Mathematics, Science And Engineering At City College, Bronx High School of Science, Brooklyn Technical High School, Millennium Brooklyn High School, Townsend Harris High School, Robert F. Kennedy Community High School, Thomas A. Edison Career and Technical Education High School and the Frank Sinatra School of the Arts.
To make sure students are aware of the new texting program, NYC Teen Text Kits will be distributed at the 10 pilot schools. The NYC Teen Text Kit features Chiara de Blasio and contains mental health materials to help schools spread the word to students. The pilot schools will display NYC Teen Text materials in highly trafficked areas, including water fountains, bathrooms and on bulletin boards.
The Health Department's Teens in NYC website and mobile phone app include additional mental health resources for teens. For more information, visit nyc.gov/teen
###