October 4, 2013 – The number of young children with lead poisoning in New York City in 2012 is at a historic low, the Health Department recently announced in its annual report to the City Council. In 2012 there were 923 children under 6 years of age identified with lead poisoning, a 22% decline compared to 2011, when the total was 1,183. The number of childhood lead poisoning cases has declined 66% since 2005 when NYC implemented Local Law 1, the Childhood Lead Poisoning Prevention Act, and an 85% decline since 2000.
"We have made amazing progress, and these numbers show that our efforts are working," said Dr. Thomas Farley, New York City Health Commissioner. "But we still need to take precautions to protect our children. It is critically important that building owners follow the law and safely repair peeling lead paint in homes with young children."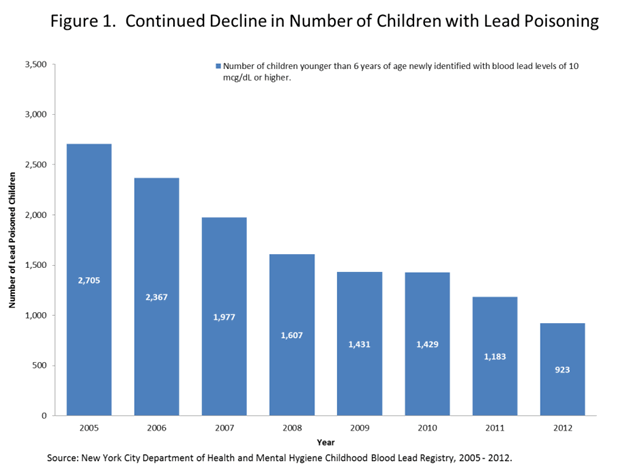 Lead poisoning can cause learning and behavior problems, even at low levels. The New York City Health Code defines lead poisoning as a blood lead level containing 10 or more micrograms of lead per deciliter of blood (mcg/dL). New York State law requires health care providers to test all children at 1 and 2 years of age and test older children found to be at risk.
Since 2005, the Health Department is required to conduct a home inspection to identify lead paint hazards and other lead exposures in the homes of children with blood lead levels of 15 mcg/dL or higher. When lead paint hazards are identified, the Health Department orders the building owner to safely repair the problem. In 2012, 349 children under 18 years of age were newly identified with blood lead levels of 15 mcg/dL or higher. Of these children, 313 were younger than 6 years of age, the age group with highest risk. This represents an 8% decline compared to 2011 when there were 342 children, and a 78% decline since 2000.
Early identification of lead-poisoned children is important in order to identify and prevent further exposures as quickly as possible. An estimated 84% of New York City children turning 3 years of age in 2012 were tested for lead poisoning at least once. Yet, only about half (54%) of them were tested at or around both age 1 and age 2.
How Parents and Caregivers Can Protect their Children from Lead Poisoning:
Report peeling paint to your building owner. Building owners are required to fix peeling paint in homes where young children live. If repairs aren't made, call 311.
Remind your doctor to test your child for lead poisoning at 1 and 2 years of age. Ask your doctor about testing older children who may be at risk of lead exposure.
Wash floors, windowsills, hands, toys and pacifiers often to remove lead dust that may be present in the home.
Don't use imported foods, spices, medicines, pots, dishes, cosmetics or toys known to contain lead.
Use only cold tap water for making baby formula and for drinking and cooking. Run the water until it feels cold before using it.
National Lead Poisoning Prevention Week is October 20-26, 2013. During the months of October and November, the Health Department is providing educational programs to over 300 community partners, including daycare centers, early learning programs and community boards, to encourage blood lead testing and promote lead poisoning prevention.
For more information on preventing childhood lead poisoning or to host an event for National Lead Poisoning Prevention Week, call 311 or visit nyc.gov/lead.
###