August 21, 2013 – The Health Department launched a free mobile app today that will help cooks calculate how many calories are in the food they prepare and find ways to reduce calorie counts. With CalCutter, restaurant chefs or home cooks can enter the ingredients and number of servings of a recipe and the app will calculate the number of calories per serving in the finished dish. CalCutter will then suggest alternative ingredients or cooking methods that reduce the number of calories in the dish. The Department also announced it will be working with celebrity chef and New York Times bestselling author Rocco DiSpirito to incorporate low-calorie ingredient swaps into the app. The free app is available for download on iPhone and Android devices here . A web-based version is also available here .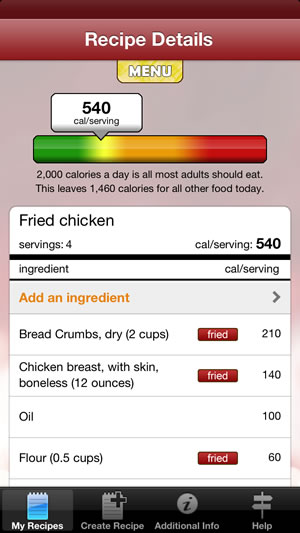 "Many people want to count calories as a way to avoid gaining weight, but they have no way of knowing how many calories are in restaurant food or even food they prepare themselves," said Health Commissioner Dr. Thomas Farley. "CalCutter is a free, simple tool to help cooks figure out how many calories their recipes deliver. We encourage both restaurant cooks and home cooks to use this tool and prepare food with calorie counts that fit into a healthy diet."
"I am thrilled to be working with the NYC Department of Health to help launch 'CalCutter,' an exciting new app they developed to empower users to monitor their caloric intake and where it's truly unique: it actually helps the home cook reduce calories by making simple, yet effective suggestions. It's free, it's easy and is helping people understand their calorie consumption, make informed decisions and promotes healthy eating. They are doing the good work that needs to be done as obesity related illnesses and deaths continue to climb. I have been eating and cooking healthy for 10 years and wouldn't go back to the old me even for a day," said DiSpirito.
Studies show that most people – including even trained dieticians – have great difficulty estimating the calorie counts of foods. This makes it very difficult for people to watch calories to try to avoid gaining weight. CalCutter is designed to help with this problem.
CalCutter includes a list of more than 400 recipe ingredients with their calorie counts as determined by the USDA. Users pick from this list and enter the amount of each ingredient in the recipe. CalCutter then calculates the calories per serving in the final product. Based on a 2,000 calorie-per-day diet, CalCutter shows how many calories can be saved by switching to these different ingredients and how much of recommended daily caloric intake the meal represents. The app gives the user the option to save a reduced-calorie version of the recipe. The new, healthier version of the recipe can then be saved and emailed.
CalCutter can help home cooks prepare food that is healthier for them and their families. Diet is one of the most important factors contributing to obesity, which data show begins early in life. Today, nearly 60% of New York City adults and 40% of children are either obese or overweight. Being overweight or obese can put you at an increased risk for many preventable diseases, including heart disease and diabetes.
While CalCutter is a useful tool for home cooks, the Health Department encourages chefs in independent restaurants to use CalCutter to voluntarily count the calories in their foods, serve foods with calorie counts that fit within a healthy diet, and make calorie counts available to their customers. Chain restaurants in New York City are required to count the calories in their foods they sell and post calorie counts on menus and menu board, but the Health Department has no plans to require calorie posting in these non-chain restaurants.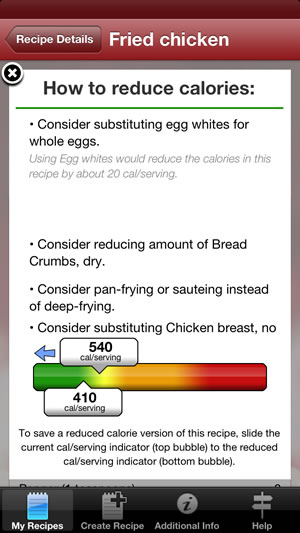 New Yorkers can obtain information and tips on how to eat well by calling 311 or visiting nyc.gov and searching for "Eating Healthy." People can also visit the Healthy Eating Facebook page at Facebook.com/EatingHealthyNYC
To download CalCutter for iPhone, Android or to view it on the web, visit: Smartphone Apps or go to nyc.gov and search "CalCutter."
About Rocco DiSpirito:
Rocco DiSpirito is a chef and the author of nine award winning books including the back to back # 1 New York Times bestsellers NOW EAT THIS! And NOW EAT THIS! DIET . Rocco launched the Now Eat This! Truck , which features meals created from his wildly successful series of cookbooks of the same name. DiSpirito is on a mission to change people's perception of healthy food by making delicious low-fat, low-calorie dishes easily accessible. His passion for cooking began at the very young age of 11 and he has never looked back. By age 19, he graduated with honors from the prestigious Culinary Institute of America, and began working for legendary chefs worldwide. While executive chef at the legendary NYT 3 star Union Pacific, he was the first chef to grace the cover of Gourmet magazine as "America's Most Exciting Young Chef", and Voted Best New Chef by Food and Wine Magazine. DiSpirito has been a television presence since his first show Melting Pot on the Food Network in 1998 and is a James Beard Award winner. In September 2012, DiSpirito's weekly show Now Eat This! with Rocco DiSpirito began airing in syndication across America. DiSpirito also stars on the popular new online series Now Eat This! Italy with Rocco DiSpirito on AOL ON. In September 2012, he published The New York Times best-seller Now Eat This! Italian featuring recipes all under 350 calories. Rocco DiSpirito
###