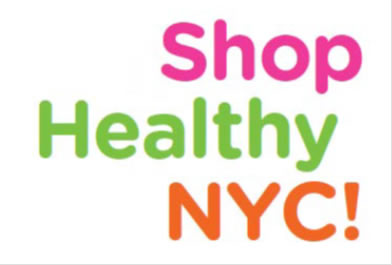 June 26, 2013 – The Health Department today announced the launch of the second wave of Shop Healthy NYC. Shop Healthy NYC is a program that works with communities to increase access to healthy foods. Over the past year, the Shop Healthy NYC program successfully worked with residents, community organizations and food retailers, suppliers and distributors in the West Farms and Fordham neighborhoods of the Bronx. Today, the program will begin its expansion to the South Bronx neighborhoods of Mott Haven, Hunts Point and Longwood with the potential to impact nearly 100,000 new Bronx residents.
The Bronx has the highest obesity rate among the City's boroughs at 30.5%, compared to 13.9% in Manhattan. In addition, of the 10 community districts with the highest rates of diabetes-related mortality, five are in the Bronx. Diabetes is twice as common among obese New Yorkers and the conditions of obesity and diabetes disproportionately affect low-income communities where there is limited access to healthy food.
"More than 1 in 6 adults in the Bronx is now overweight or obese, and has developed or is at risk of developing related illnesses like diabetes," said Health Commissioner Dr. Thomas Farley. "It is crucial that we address the issue of access to healthy foods in high needs areas. Shop Healthy NYC'sapproach acknowledges that we must work on multiple levels to change our environment so that healthy foods are easily accessible to all people."
"I am pleased that Shop Healthy NYC is expanding its efforts within the Bronx," said Senator Gustavo Rivera. "The borough faces a number of health issues, many of which could be improved by applying lifestyle changes like eating healthier. The Shop Healthy NYC program is successfully encouraging healthier habits by increasing access to wholesome food options in our local community retailers."
"Diabetes and obesity are serious health conditions affecting thousands of Bronx residents and access to healthy food is essential in combating these conditions," said Council Member Maria del Carmen Arroyo. "The Shop Healthy NYC initiative sets a framework which enables us to work on multiple levels to improve access to healthy food options and make them more easily accessible to more Bronx communities."
"So many families in the Bronx struggle to buy fresh, healthy food on a regular basis. I am excited that Shop Healthy NYC is helping the Bronx become a healthier Borough by expanding into the South Bronx. This is good news for all our residents who are yearning for access to healthier affordable foods in their neighborhoods. Getting more healthy food options into the hands of Bronx consumers has been a major goal of my office and I thank Shop Healthy NYC for being our partner in helping Bronxites take first steps towards better health," said Bronx Borough President Ruben Diaz Jr.
"Today's expansion of Shop Healthy shows how we can partner with local businesses, community leaders and residents to fight for healthy food access while we fight the cycle of poverty," said NYC Center for Economic Opportunity Executive Director Kristin Morse. "The link between diet-related illness and poverty is not just a matter of affordability: too often, low-income communities lack reliable access to healthy foods. CEO supports food access initiatives because the evidence is clear that higher rates of obesity and poor health outcomes disproportionately affect low-income New Yorkers."
Shop Healthy NYC improves a neighborhood's food environment by making sustainable changes at all levels of the local food supply. Suppliers and distributors are encouraged to offer and promote healthy options to retailers who stock stores with their inventory. The Health Department educates food retailers about healthy foods and helps them stock and promote these foods with tools including in-store prompts for healthy foods and free-standing baskets for fresh produce. Finally, community groups and residents are encouraged to "Adopt-a-Shop" and support retailers who are increasing access to healthy foods to implement and sustain these changes. The Shop Healthy initiative is funded by the NYC Center for Economic Opportunity, a unit of the Mayor's Office that designs and tests innovative anti-poverty programs.
The first wave of Shop Healthy NYC launched in June 2012 in the West Farms and Fordham neighborhoods of the Bronx. As a result, 175 store owners in those neighborhoods began promoting healthy foods in their stores, changing the ratio of unhealthy to healthy ads from roughly 11:1 to 1:1. Of these 175 retailers, 64 stores participated in the retail challenge to prioritize the stocking and display of healthy foods, while minimizing the promotion of junk food. Forty-five stores received proclamations from Borough President Diaz and Senator Rivera for meeting all seven criteria, which include:
Promoting healthy food and beverages with Shop Healthy marketing materials
Offering fruits and vegetables at the front of the store or the cash register
Displaying water and low-calorie refrigerated drinks at eye-level
Offering and promoting a healthy sandwich or meal combo at the deli counter
Stocking low-sodium canned goods and canned fruit in 100% juice
Stocking at least two healthy snack items, and
Removing all advertising from the entry door
Stores were transformed, with 95% of them offering healthy snacks and placing produce near cash registers, and over 70% offering healthy deli and canned good options, as well as displaying water at eye level.
"The Adopt-a-Shop program has allowed our teens and young adults to see that healthy choices can have a huge impact, not just individually but in their families and in their communities," said Caroline D. Davis, Director of Teen Services, St. Barnabas Hospital, Union Community Health Center. "They are now more interested in leading a healthier lifestyle and telling their own stories about how they've made healthy changes."
"I learned to read a food label because of Shop Healthy. Now when I buy things to carry in my store I look at the food labels," said Jose DeJesus from Stop One Grocery in Fordham, The Bronx. "People recognized Shop Healthy and were looking for healthy items because of the signs and my participation in the program."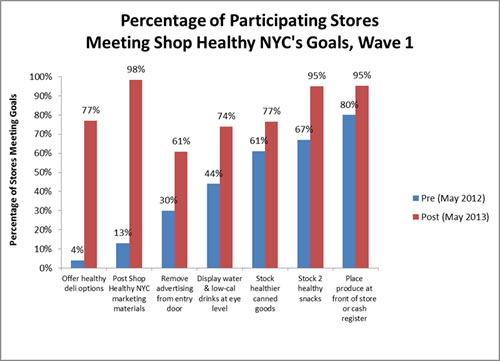 In conjunction with the Wave 2 launch, the Health Department, in partnership with the Center for Economic Opportunity, developed two new Shop Healthy NYC publications. The first is an implementation guide to help other jurisdictions and large community organizations implement Shop Healthy NYC in their communities. The second is an updated Adopt-a-Shop toolkit, which provides information for residents and smaller community-based organizations interested in supporting lasting food retail change in their neighborhood. Both publications are available online.
To access the guides or to find more information about the program, visit nyc.gov and search Shop Healthy NYC.
###