May 20, 2013 – The Health Department today launched an ad campaign highlighting the free, confidential crisis counseling services available to help New Yorkers cope with the effects of Hurricane Sandy, particularly in Brooklyn, Lower Manhattan, Queens and Staten Island.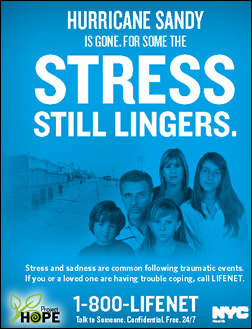 Project Hope crisis counselors, going door-to-door in blue vests, provide emotional support and help people find ways to cope with the traumatic impact the storm has had on their family and their lives. The ads will run in subway cars, on buses and the Staten Island Ferry beginning today through the month of August.
"Months after the storm, many New Yorkers are still dealing with the effects of Hurricane Sandy – both physical and emotional," said Health Commissioner Dr. Thomas Farley. "Anyone still experiencing stress after the storm can call 1-800-LIFENET to receive free support from a Project Hope counselor."
A December 2012 Health Department survey conducted in South Brooklyn, The Rockaways, and Staten Island found that almost one-third of adults reported experiencing symptoms of serious psychological distress six weeks after the storm. The burden of mental health problems was also high among children, with one-third of children demonstrating at least two psychological symptoms such as sadness, trouble sleeping and nervousness. For adults and children who continue to experience serious distress, Project Hope counselors can help them find additional mental health services in the community.
In approximately half of Project Hope crisis counseling sessions, New Yorkers exhibited reactions to the storm, most commonly feeling sad, tearful, anxious, fearful, irritable or angry. Sessions conducted in the Rockaways and Staten Island had a higher proportion of people (58%) who reported not coping well after the storm. 
Project Hope is a program of the New York State Office of Mental Health that is administered by Substance Abuse and Mental Health Services Administration (SAMHSA), funded by FEMA and delivered to New York City residents with oversight by the New York City Department of Health and Mental Hygiene.
There are currently 388 crisis counselors available to help. Counselors can speak with both individuals and groups, and counselors who speak Spanish, Russian, Cantonese Mandarin, Arabic and other languages are available. Seventeen organizations with experience in crisis counseling are working in schools, NYCHA buildings, with community organizations, and faith-based groups to identify and connect with people in need.
If you or someone you know feels overwhelmed after Hurricane Sandy, call 1-800-LIFENET to connect with a Project Hope provider agency in your community. LIFENET is a free, confidential helpline for New York City residents, available 24/7 with trained staff ready to take your calls: 1-800-543-3638 (English), 1-877-298-3373 (Spanish), 1-877-990-8585 (Chinese).
For more information, visit nyc.gov.
###