Feb. 25, 2013 – The Health Department today launched a new ad campaign to promote oral health for young children. Tooth decay is the most common chronic childhood disease and dental problem in America yet it is largely preventable.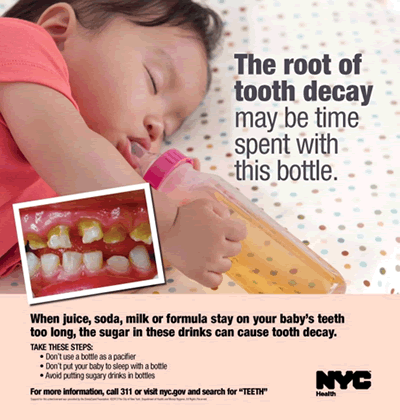 In New York City, more than one out of three third grade children have untreated tooth decay and 55% of third graders have had a cavity. Untreated tooth decay can cause pain, infection, difficulty eating and speaking, and reduced self-esteem due to appearance. This new campaign educates the public of the risk factors for tooth decay and gives parents and caregivers of young children tips to help prevent tooth decay.
"Good oral health habits start at a young age," said Health Commissioner Dr. Thomas Farley. "We often don't realize that some of the most common everyday behaviors, such as putting a baby to sleep with a bottle or using our mouth to wash off a pacifier can be contributing to a child's tooth decay."
Nationally, more than 51 million hours of school were missed annually by children due to an oral problem or a visit to the dentist beyond regularly recommended checkups. Home prevention can play a critical role in the health of a child as there is a low utilization of dental care especially among very young children. The recommendation for children is to visit the dentist when the first tooth comes in and no later than 12 months of age and then at least twice a year through adolescence. By launching this educational campaign, caregivers are receiving important information to keep their children healthy.
The Health Department advises parents and caregivers of young children to take the following steps to prevent tooth decay in young children:
Don't use a bottle as a pacifier


Don't put your baby to sleep with a bottle


Avoid putting sugary drinks in bottles


Don't share utensils or bites of food with your baby


Do use water, not your mouth, to clean off a pacifier


Do take care of your own teeth to reduce germs in your mouth


Do brush your child's teeth twice a day as soon as the first tooth comes in


Do brush with fluoridated toothpaste for children ages 2 and older


Do assist and supervise children until they can brush on their own


Do help your child drink from a regular cup by age one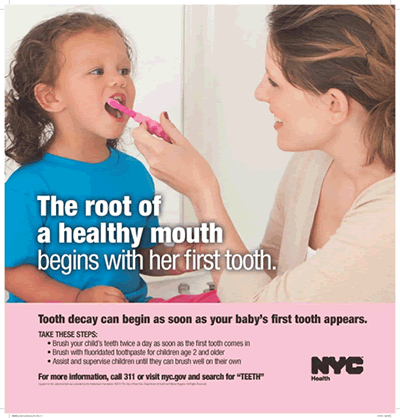 "This campaign is about giving parents and caregivers of young children the information they need to make healthy decisions," said Amanda Parsons, Deputy Commissioner, New York City Health Department. "These are preventive measures that can be taken at home to help keep young children cavity-free."
The ads will run in subways through the end of April.
Support for this advertisement was provided by the DentaQuest Foundation.
For more information on children's oral health, call 311 or search for "teeth" on NYC.gov.