May 1, 2012 – The New York City Health Department today announced that the Center for Disease Control and Prevention (CDC) will air the Health Department's "Man Eating Sugar" spot – originally created for YouTube as part of the "Pouring on the Pounds" campaign – as a televised ad as part of a national obesity prevention media initiative. The ad will air in New York City as well as media markets across the country, from Hawaii to Maine. The 30-second spot shows a young man guzzling whole packets of sugar while seated at a diner counter. Other diners look on with disgust, failing to realize that they're consuming just as much from the sugary drinks they're sipping.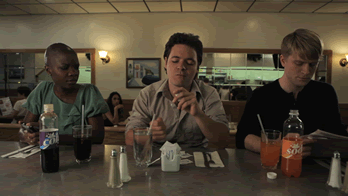 "Few of us would knowingly eat the 16 spoons full of sugar found in a typical 20-ounce sugary drink," said Dr. Thomas Farley, New York City Health Commissioner. "This ad shows people are doing just that without recognizing it. Sugary drinks, with huge portion sizes and heavy advertising, are powering the obesity epidemic."
The Health Department's campaign to reduce consumption of sugary drinks may be beginning to have an effect in New York City. Between 2007 and 2010, the percentage of New Yorkers who drink one or more sugary drinks a day fell from 36 percent to 30 percent, according to the Health Department's annual telephone survey. Nearly half of the estimated 1.5 million New Yorkers who have seen the "Pouring on the Pounds" ad campaign said they consequently scaled back on soda consumption. Nonetheless, consumption of sugary drinks is still high enough that health officials are concerned.
Sugary drinks have been linked in studies to weight gain or obesity, that can lead to diabetes and heart disease. To avoid these risks, drink water, seltzer, or low-fat milk, or look for drinks with fewer than 25 calories in every 8oz. serving. Coffee and tea are naturally low in calories, even when you add small amounts of milk and sugar. If you crave a sweet drink, choose a small size and make it an occasional treat – or choose a sugar-free variety.
In the New York City area, the TV spot will air on broadcast and cable TV and can also be seen on YouTube.
For more information on healthy eating and drinking, call 311 and ask for a Healthy Eating Packet or visit our Facebook page at http://www.facebook.com/EatingHealthyNYC.
###