March 1, 2012 – The Health Department kicks off its annual nicotine patch and gum program today to help New Yorkers quit smoking. The program will run through March 16. To coincide with the patch and gum giveaway, the department is running a hard-hitting ad campaign that visually depicts three common cancers that smoking causes and describes the low survival rates of these cancers. The campaign's take home message is "Quitting is much less painful." The campaign's graphic images focus on esophageal cancer, pancreatic cancer, and stomach cancer. They also show the extensive treatment for each of these cancers such as esophageal resection, partial stomach removal, and radiation, which can be invasive and painful. Ads will run on television, on-line and in local newspapers.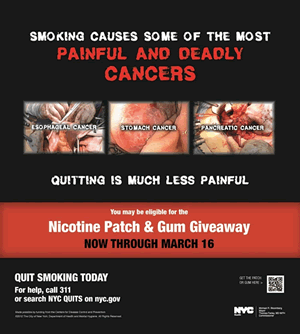 "The nicotine patch and gum program and hard-hitting, graphic education campaigns we've run over the last seven years have made a tremendous impact on smoking rates in New York City and have helped thousands of people quit smoking and improve their health," said Health Commissioner Dr. Thomas Farley. "Last year alone, almost 40,000 smokers participated in the program. If you're still smoking, take this opportunity to call 311 or visit nyc.gov to get help quitting."
Smoking is still the leading cause of premature preventable deaths in New York City. While the adult smoking rate in NYC is at an all-time low of 14%, an estimated 850,000 New Yorkers still smoke, putting themselves and those they love at risk of disease, disability and death. In NYC in 2010, there were 922 deaths from pancreatic cancer with approximately 20% of those deaths being smoking-related. There were 439 deaths from stomach cancer with about one in six estimated to be related to smoking. Deaths due to esophageal cancer amounted to 273 with more than 60% of those deaths related to smoking.
The Health Department's nicotine patch and gum program, launched each year since 2006 in conjunction with hard-hitting educational campaigns that NYC has become internationally-renowned for, has prompted 300,000 New Yorkers to call for help quitting smoking since 2003.
"I've been smoke-free since February 2010 after calling 311 for help to quit," said James Oliver, a former smoker from Brooklyn, who hopes New Yorkers will take the Health Department up on their offer to help. "I'd seen a lot of anti-smoking commercials and knew I could call to get help. I'm so glad I did.  Although quitting wasn't easy, I'm glad I did it with nicotine patches – they greatly reduced my desire to smoke."
The Health Department's anti-smoking campaigns have driven a nearly five-fold increase in calls for quit smoking assistance to 311 since 2006. The annual number of calls grew from approximately 11,000 in 2005 – the year before the Department launched its hard-hitting anti-smoking public education campaigns – to more than 50,000 in 2011. Since these graphic campaigns showing the real health consequences of smoking began airing in New York City, smoking rates have dropped from 18.9% to 14.0%.
Smokers can receive additional help by registering on NYC Quits (Search NYC Quits on nyc.gov), an interactive website with tools and information to help smokers quit. Registered users can access tools like a Quit Diary and a Cravings Log to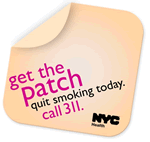 track their progress and seek support during the quitting process. In addition, the agency's "NYC Quits" Facebook page – facebook.com/nycquits – has become an online smoking cessation support network with more than 6,000 fans. Smokers who want help quitting can apply to get patches or gum at no cost by calling 311 or completing an easy online application by searching for "NYC Quits" on NYC.gov.
Quitting can be tough, but nicotine patches and gum can double your chances of success. Here are some tips to make quitting smoking easier:
Prepare yourself. Make a list of your reasons for quitting and plan for situations that may tempt you to smoke.
Pick a quit date. Get rid of ashtrays and lighters, and all cigarettes.
Make your home and car smoke-free. It is healthier for others and will help you resist smoking.
Get support and encouragement. Tell your family, friends, and co-workers that you are quitting and ask for their support. Socialize with non-smokers.
Get a quit buddy. Ask a smoker to quit with you or find someone who has already quit who you can talk to for support.
Exercise. Make exercising a priority. Redirect time you may have spent smoking to working out, walking, biking or engaging in other physical activities.
###