February 16, 2012 – The Health Department today announced the launch of Bronx Teens Connection, a new multi-City agency and community engagement initiative to improve sexual and reproductive health and reduce unintended teen pregnancy rates in the South Bronx. By creating an environment where teens have the information, skills and resources they need to make healthy decisions about their sexual and reproductive health and act on these decisions, the program aims to help teens avoid unintended pregnancies and sexually transmitted infections (STIs). Dionna Walters, director of Bronx Teens Connection, Dr. Jane Bedell, assistant commissioner at the Health Department's Bronx District Public Health Office and Bronx Borough President Ruben Diaz Jr., announced the project at the Bronx Museum. Ruben Diaz Jr. also proclaimed Feb. 16th Bronx Teen Sexual and Reproductive Health Day in celebration of the launch. The Health and Education Departments, the Administration for Children's Services, the Human Resources Administration, and the Health and Hospitals Corporation are collaborating on this effort.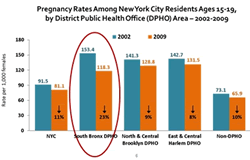 "Bronx Teens Connection aims to demonstrate that innovative, community-wide efforts can reduce teen pregnancy and birth rates in Hunts Point, Morrisania and other parts of the South Bronx," said Dr. Andrew Goodman, deputy commissioner for Health Promotion and Disease Prevention at the Health Department.
"Teens in the Bronx face many challenges as they approach adulthood," said Dr. Bedell. "A community-wide effort will allow us to work together to invest in the well-being of our teenagers by providing access to services and making sure that teens are knowledgeable about sexual health and empowered to act on this knowledge."
"We want to help young people reach their full potential and make better choices in life," said Bronx Borough President Ruben Diaz Jr. "I believe that this community effort will help our youth improve their knowledge and understanding about sexual health, making them more confident to make the choices that are right for them."
Pregnancy rates for 15-to19-year-olds in the South Bronx decreased from 153.4 per 1,000 females in 2002 to 118.3 per 1,000 females in 2009, a decline of 23%, more than the overall city decline of 11% (Teen Pregnancy in New York City: 2000-2009. New York, NY: New York City Department of Health and Mental Hygiene, 2011).
While progress has been made, the Bronx continues to have the highest teen pregnancy rate of any New York City borough. In NYC, about one in every 10 teens is uninsured, and almost three out of every 10 young people are living below the poverty line. These numbers are even higher in the Bronx, which ranks as the poorest county in New York state. Bronx Teens Connection's efforts to increase access to quality clinical services will aim to address these challenges by ensuring that age-appropriate, affordable reproductive health services are available to Bronx teens.
Under the Bronx Teens Connection umbrella, the Health Department and the Department of Education will work together to implement an evidence-based sexual health education curriculum, Reducing the Risk, to 9th and/or 10th graders in 20 Bronx high schools. Reducing the Risk has been shown in research studies to be an effective curriculum for educating teens about the consequences of being sexually active, improving students' negotiation skills in relationships, delaying sexual initiation, increasing contraceptive and condom use among teens that are sexually active and involving parents in discussing sexual health with their teen. Bronx Teens Connection staff will work with teens to educate them about delaying sex until they are ready and, if they are sexually active, about the importance of using dual protection – a condom plus hormonal contraception, such as the birth control pill, or an intrauterine device (IUD) – to prevent pregnancy and STIs.
The Health Department will also work with the City's Administration for Children's Services and locally-based foster care and preventive service agencies to implement a similar evidence-based curriculum to reduce unintended teen pregnancy among teens in foster care and those that receive preventive services.
A key goal of the initiative is linking high schools and youth-serving organizations to teen-friendly community-based health centers, so that Bronx teens have easy access to quality reproductive health resources, including contraception. The project is partnering with several clinics that serve youth in the South Bronx, including Health and Hospitals Corporation (HHC) facilities. In addition, Bronx Teens Connection, in partnership with the City's Human Resources Administration, will facilitate teens' enrollment in the Family Planning Benefits Program, an insurance program for which most teens are eligible that covers reproductive health care services.
Community engagement in preventing teen pregnancy, including working with community leaders, is also an important part of the initiative. A partnership with parents, community-based organizations, high schools, community- and school-based clinics, government agencies, and youth-serving organizations will help assure that teens receive clear, consistent health messages, and the support and resources they need to make healthy decisions.
Bronx Teens Connection is one of nine national programs funded by the Centers for Disease Control and Prevention (CDC) in collaboration with the federal Office of the Assistant Secretary of Health (OASH) Office of Adolescent Health, as part of the President's Teen Pregnancy Prevention Initiative. The program is based at the Bronx District Public Health Office and includes as its partners local schools, clinics, and community-based organizations and several City agencies. This funding is administered by the Fund for Public Health in New York, a private non-profit organization that supports innovative initiatives of the New York City Health Department. For more information on teen health or to find out where teens can go for confidential teen-friendly sexual and reproductive health services call 311 or search "NYC Teen" on NYC.gov.
###