Feb. 13, 2012 – To commemorate National Condom Day, which happens to fall on Valentine's Day, the Health Department will launch a NYC Condom mobile-enabled website, so more New Yorkers on the go can use smartphones to find free condoms and access sexual health information. The NYC Condom mobile website, which provides users with sexual health information, has been optimized for mobile phone screens and the NYC Condom Finder smartphone app will be able to be downloaded using Windows and Blackberry platforms. Viewers can learn about the importance of using condoms, how to use male and female condoms, and how to find free safer sex products, such as male and female condoms, in all five boroughs.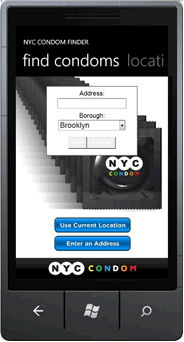 "New Yorkers are mobile, so we need to reach them both with sexual health information and easy access to service information wherever they are," said Dr. Thomas Farley, New York City Health Commissioner. "We distributed well over 36 million male condoms and 1 million female condoms last year. With expanded access to the NYC Condom Finder, New Yorkers and visitors alike can find the resources they need for safer sex using only a few taps on their phone."
"New York City is on the cutting-edge of using new technology to promote safer sex in our city," said Dr. Monica Sweeney, Assistant Commissioner for the Bureau of HIV/AIDS Prevention and Control. "Our app expansion and new mobile condom website take us two steps closer to making safer sex the norm."
The Health Department developed the mobile websitein response to the more than 25,000 NYC Condom Finder downloads since last year's launch of the Android and Apple-friendly smartphone application. The custom application, which will now be available for Windows and BlackBerry smartphones (check the NYC Condom Facebook page for more information), uses the global positioning system (GPS) technology from a user's smartphone or allows users to manually enter an address to determine the five closest NYC Condom distribution venues. The NYC Condom Finder provides specific directions to each participating venue (the user can choose walking, driving or public transportation directions), each venue's operating hours, the types of safer sex products available, and helpful tips on correct condom usage. With almost 1,000 condom distribution locations throughout the five boroughs currently accessible through the mobile app, New Yorkers now have additional tools to ensure that they are protected from sexually transmitted infections (STIs), including HIV, and unintended pregnancy.
To download the NYC Condom Finder application, New Yorkers with Windows, BlackBerry, Apple, or Android mobile phones can search for 'NYC Condom' on their respective devices. The NYC Condom Facebook page also has information about how to download the free application and how to access the mobile website.
The expansion of the NYC Condom Finder application and the development of the mobile condom website are part of the Health Department's latest efforts to use innovative social marketing and new media to promote condom use in New York City. These groundbreaking attempts began in 2007 when New York City launched the nation's first municipally branded condom.
If you choose to have sex, using a condom correctly and consistently is still the best method of reducing the risk of acquiring or transmitting HIV and other STIs, including chlamydia, genital herpes, syphilis, and hepatitis B and C.
How to use a condom correctly:
Use a new condom for each sex act.


Put the condom on when the penis is erect, before sexual contact occurs. Unroll it all the way down.


Leave a half-inch at the tip to collect semen. Squeeze out any extra air.


If you accidentally put on a condom the wrong way, discard it and use a new one.


For latex condoms, use only water-based lubricants (e.g., K-Y jelly, Astroglide, Kama Sutra, Liquid Silk).


After sex, pull out before the penis softens. Hold the base of the condom to make sure its contents do not spill.


Dispose of the used condom by wrapping in tissue or toilet paper and throwing away in a trash can—never flush down the toilet.


Condoms should always be stored at room temperature (68-77oF or 20-25oC). Protect condoms from prolonged exposure to extreme temperatures, moisture, direct sunlight and fluorescent light. Don't carry condoms in your wallet or car for an extended period of time – this can make them break easily – and always check expiration dates before using them.
New Yorkers can call 311 or visit nyc.gov (search: condoms) to find one of the 3,500+ partner venues that offer free NYC Condoms. They can also learn more about condom use and sexual health at facebook.com/NYCcondom.
How to protect yourself and others from HIV and other STIs:
Have one partner in a mutually exclusive relationship, if both partners are free of HIV and other STIs.


Reduce the number of sex partners. More partners mean more risk.


Use a male or female condom (FC2) every time you have sex. Never use a male condom with a female condom or more than one condom at the same time.


Avoid using alcohol and drugs before you have sex. You're less likely to use a condom if your judgment is impaired.


Know your HIV status. If you have ever had sex—anal, vaginal, or oral – or injected drugs (even once), get tested for HIV and other sexually transmitted infections. Any New York City resident can get a free HIV test (regardless of your immigration status or ability to pay) at one of the Health Department's Sexually Transmitted Disease (STDs) or Tuberculosis (TB) clinics. For a complete list of locations throughout the city, call 311 or visit nyc.gov (search: STD clinics). In addition, New York State law now requires most medical facilities to offer a voluntary HIV test to anyone ages 13-64 receiving emergency, inpatient or outpatient primary care health services, with limited exceptions. If you are not offered an HIV test the next time you visit a health care provider, ask for the test. For more information, visit nyc.gov (search: HIV testing), call 311 or visit facebook.com/NYCKnows.

About the NYC Condom program
New York City's free condom initiative began in 1971 when the Health Department started distributing male condoms through its STD clinics. The NYC Condom Availability program currently distributes condoms in over 3,500 public venues citywide (i.e., community-based organizations, clubs, restaurants), released the country's first municipally branded condom. In the last five years, the Health Department has launched an NYC Condom Facebook pagewhich currently has over 17,600 followers, an online NYC Condom wrapper design contest, a special limited edition (Queens-resident designed) NYC Power Button condom, and launched the NYC Condom Finder in 2011 for Apple and Android smartphones. The NYC Condom is a lubricated Lifestyles male condom – the same one sold in stores – but has its own distinctive wrapper and is free. Any NYC-based organization, public or private, can order them in bulk by calling 311 or by visiting nyc.gov (search: condoms).
###