Dec. 27, 2011 – As part of the Bloomberg Administration's ongoing effort to improve the health of New Yorkers, the New York City Health Department next week will launch a new TV campaign underscoring the health consequences of "light" smoking. This is the Department's first campaign specifically targeting light smokers – those who smoke fewer than 10 cigarettes per day – with information on the dangerous health effects of even light or casual smoking. The campaign, called "One Cigarette is One Too Many," contrasts people defending their light smoking with the grim realities of the well-documented health effects from light smoking. One ad shows a woman under the quote, "I only smoke when I take breaks at work…" followed by the warning, "She could still have a heart attack."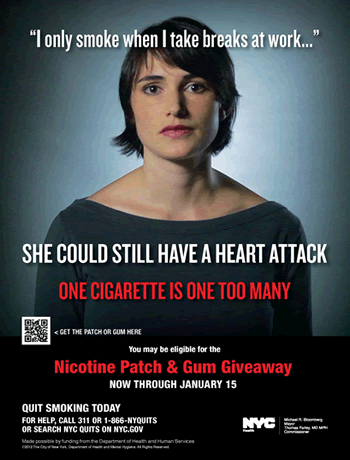 "Even if you don't think of yourself as a smoker, when you smoke even one cigarette a day, you are putting yourself at risk for many serious and potentially fatal health problems," said Health Commissioner Dr. Thomas Farley. "Quitting smoking for good can decrease your risk for heart disease and cancer and give you the best shot at living a long, healthy life. Help is available. Call 311 or go on-line to get free gum or patches today."
The 30-second TV ad will run in English and Spanish on all broadcast and cable channels from Dec. 27, 2011 through Jan. 15, 2012. To coincide with the campaign, the Health Department will offer nicotine gum to eligible smokers who smoke fewer than 10 cigarettes per day to help them quit through 311 and online (search nycquits on nyc.gov). Light smokers make up 34% of all New York City's daily smokers. Heavier smokers who are interested in nicotine replacement therapy can still call 311 or 1-866-NYQUITS year round for help with quitting.
Like heavier smokers, light smokers are at an increased risk of smoking-related death and disease, such as heart attack, stroke, aneurysm and some cancers. Adults who smoke even one to four cigarettes per day have nearly three times the risk for heart disease than that of a non-smoker. Another study in Tobacco Control found that women light smokers, ages 35 to 49, are five times more likely than nonsmokers to develop lung cancer. Men have 3 times the risk. Research also points to an increased risk of mortality for light smokers compared with non-smokers. Among women, in fact, light smokers had a 4- to 6-year average loss of life compared to non-smokers.
Quitting can be tough, but nicotine patches and gum can double your chances of success. Here are some tips to make quitting smoking easier:

Prepare yourself. Make a list of your reasons for quitting and plan for situations that may tempt you to smoke, even one cigarette.


Pick a quit date. Get rid of ashtrays and lighters, and all cigarettes. Avoid purchasing cigarettes and bumming them from friends or co-workers.


Make your home and car smoke-free. It is healthier for others and will help you resist smoking.


Get support and encouragement. Tell your family, friends, neighbors, and co-workers that you are quitting and ask for their support.


Get a quit buddy. Ask a smoker to quit with you, or find someone who has already quit who you can talk to for support.


Join an exercise group to substitute smoking with a healthy activity. Search BeFitNYC on NYC.gov for a list of physical activity opportunities throughout the city and ways you can Make NYC Your Gym.
More information on quitting smoking is available by searching for "NYC Quits" on NYC.gov.
###