Nov. 22, 2011 –The Health Department today released the latest installment of its "Excessive Drinking Is Dangerous" public education campaign with a print ad and subway posters in Spanish and English. One of the two ads depicts a bloodied young man wearing a neck brace and being lifted into an ambulance. The copy above his head reads, "Two drinks ago this wasn't your ride."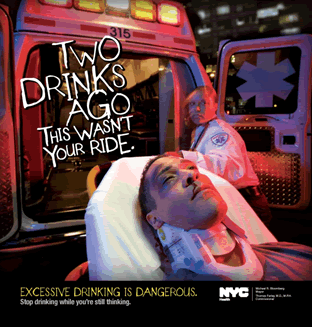 "Excessive drinking impairs judgment and coordination, greatly increasing one's risk for violence and injury," said New York City Health Commissioner Dr. Thomas Farley. "Being thoughtful and responsible can mean the difference between getting home safely and a trip to the emergency department. Excessive drinking also puts others at risk for injury and the consequences can be fatal."
In 2009, alcohol contributed to more than 8,840 hospitalizations in New York City -- an increase of 36% since 2000 when 5,640 people were hospitalized – with falls, assaults and transportation accidents the leading causes of alcohol-related hospitalizations. Transportation accidents specifically led to 9% of all alcohol-related hospitalizations, with the majority of victims being struck while walking or as a passenger or driver in a motor vehicle (36% for both).
Alcohol also kills an estimated 1,500 New Yorkers each year with related-injuries, poisoning, and violence accounting for 46% of all alcohol-attributable deaths in NYC in 2009.
Excessive drinking is characterized by either binge drinking – defined as five drinks for a man and four for a woman on one occasion– or heavy regular drinking. In NYC, among adults who drink, 56% binge and 11% reported heavy drinking. As a rule, men should have no more than two drinks a day or 14 in a one-week period. For women, the upper limits for drinking are one a day or seven over the course of a week.
For information about excessive drinking, or treatment for alcohol dependence, call 311 or 800-LifeNet (543-3638).
###