Oct. 25, 2011 – Health Commissioner Dr. Thomas Farley today urged all New Yorkers to get a flu shot before the flu season gets into full swing. Influenza is a highly contagious respiratory infection that, together with pneumonia, is the third leading cause of death in New York City. Influenza season in New York typically starts in the winter months, peaking in January through March. Getting vaccinated before influenza transmission peaks is the best way to prevent infection from the virus and the suffering that comes with it.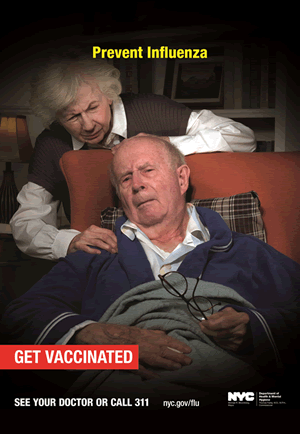 Influenza symptoms include high fever, dry cough, and all-over body ache. Nationally, influenza is estimated to kill an average of 23,600 people and hospitalize over 200,000 people annually. In New York City, over 2,000 people die from influenza and pneumonia each year. Elderly New Yorkers fare the worst, accounting for about 85% of overall deaths. Fortunately, more adults 65 and older are now getting vaccinated, with an increase in those who received a flu vaccine in the past year from 53% of adults 65 and older in 2009 to 62% in 2010, according to a 2010 Health Department survey.
"Adults 65 and older, especially those with medical conditions, pregnant women and children under 5 can ward off coming down with the flu by getting vaccinated," said Health Commissioner Farley. "While maintaining good personal hygiene – washing your hands, covering your cough, and staying home when ill – helps diminish the spread of the virus, getting the flu vaccine is the best 'shot' we have going to prevent flu-related death and illness."
Getting vaccinated in New York City has never been easier, and this year's vaccine is well-matched to flu strains starting to be identified in the U.S. Any New Yorker 18 and over can get vaccinated at their local pharmacy and most pharmacies accept health insurance. The Health Department is working with Walgreens and Duane Reade, which are providing flu vaccination vouchers to people who do not have health insurance or who cannot afford the cost of vaccination in order to help protect as many people as possible this flu season. Flu shots typically range from $25 to $35 at most pharmacies for walk-in customers. In addition, the City's BigAppleRx discount prescription drug card offers a discount on flu shots. Flu vaccines are also available from Health Department clinics, and the Health and Hospitals Corporation (HHC) offers free or low-cost vaccination at all of its hospitals and community health centers. Anyone can find a nearby vaccine outlet by calling 311 or searching under "flu" or "Flu Clinic Locator" on NYC.gov.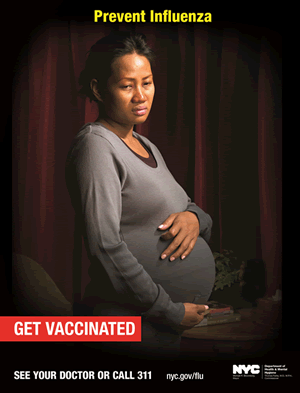 If you are pregnant, one of the easiest ways you can protect yourself and your baby from getting sick is to see your obstetrician or primary care physician or go to your nearest pharmacy and ask for a flu shot today," said Dr. Jay K. Varma, the Health Department's Deputy Commissioner for Disease Control. "During pregnancy, mothers pass on their immunity to their babies, protecting them from influenza during the e first months of life. By getting vaccinated against influenza, you'll be protecting yourself and your newborn."
Pregnant women have an increased risk of becoming ill and having complications from influenza. Influenza can also increase a pregnant woman's chances of premature labor and delivery. Infants, who have the highest hospitalization rates from influenza, cannot get a flu shot before 6 months of age. Vaccinating a mother while she is pregnant helps protect her newborn infant from influenza. Pregnant women have safely received flu shots for many years and can be vaccinated at any time during the pregnancy. It is also safe to get vaccinated while breastfeeding, either via a shot or through nasal spray.
It is also important to vaccinate school-aged children, not just because it protects them, but also because it helps prevent them from spreading influenza to others at risk of severe illness.
Annual flu vaccination is now recommended for everyone 6 months of age and older. Even if you were vaccinated last year, it is important to get another vaccination because immunity wanes over the course of the year. Flu vaccination is especially important for people in these priority groups:
Pregnant women
Children younger than 5 years, especially those under 2
People 50 and older, especially those 65 and older
People with certain chronic health conditions, including obesity, diabetes, lung disease (including asthma), heart disease, sickle cell anemia, weakened immune system (such as from HIV or cancer treatment), and any nerve or muscle disorder that can cause breathing problems
People who live in nursing homes and other long-term-care facilities
People who care for infants less than 6 months old
Health care workers.
If you're hesitant about getting a flu shot because of the needle, ask your doctor whether the nasal spray is an option for you. Healthy non-pregnant people between the ages of 2 and 49 can get the flu vaccine through a nasal spray instead of an injection.
 To prevent the spread of flu and other infections:
Cover your mouth and nose when you cough or sneeze. Using a tissue or the inside of your elbow is better than using your hand.
Wash your hands often with soap and water, especially after you cough or sneeze, or use an alcohol-based hand sanitizer.
If you get sick, stay home for at least 24 hours after your fever resolves and avoid close contact with others.
###