August 17, 2011 – The World Trade Center (WTC) Health Registry launches its third major survey this summer of more than 70,000 people who were exposed to the WTC attacks and the aftermath, including nearly 13,000 who currently reside outside the New York/New Jersey area. The Registry, which has surveyed the same cohort twice before, will examine the health status of the survey participants ten years after the 2001 terrorist attacks on the United States. As the nation's largest cohort of WTC-exposed people, the Registry includes rescue and recovery workers, Lower Manhattan residents, area workers, students and passersby and is the most comprehensive post-disaster public health registry in the United States. Registry enrollees can obtain more information about completing this third survey by e-mailing the Registry at wtchr@health.nyc.gov or calling the Registry through 311.
"Findings from the Registry's two prior surveys helped establish the burden of posttraumatic stress disorder and respiratory illness among directly exposed people," said Health Commissioner Dr. Thomas Farley. "Only now has sufficient time passed to begin investigating potential late emerging and long-term health effects associated with WTC exposure. Responses to the third survey will provide researchers with health updates that can help guide clinical services in the future."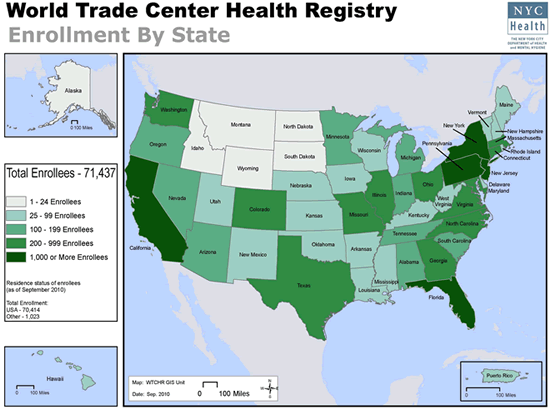 By asking about mental and physical symptoms ten years after 9/11, the survey will obtain information about the persistence or resolution of the most common health effects associated with WTC exposure such as posttraumatic stress disorder and asthma. New mental health questions will ask about functional status, depression, anxiety and history of traumatic stress before and after 9/11, which will help inform an understanding of the long-term mental health impacts after 9/11. The new survey will also ask questions related to asthma control, sleep apnea, other respiratory diseases, cardiovascular diseases, autoimmune disorders and other potential late-emerging conditions.
Responses to new questions about health care access will be useful for assessing gaps in care and referring enrollees to treatment services now available through the federal WTC Health Program, established in July 2011 by the James L. Zadroga 9/11 Health and Compensation Act.
The Registry population includes more than 69,000 adults. Approximately 1,300 children and adolescents under the age of 18 will be surveyed separately later this year. These enrollees, or their parents or guardians, first volunteered to respond to periodic health surveys in 2003-2004 before the Registry was closed to new participants.
"Every survey counts," said WTC Health Registry Director Mark Farfel, ScD. "We know we can provide a more complete picture of 9/11 health impacts when more Registry enrollees respond to our surveys, so we've worked hard to make our third survey as user-friendly as possible, including having Spanish and Chinese language surveys. It only takes around 20 to 30 minutes to complete and is available online or in paper format. We also will call those who don't respond to encourage them to participate."
Data collection will continue through early March 2012, with outreach support from the Registry's labor and community advisory groups, who also provided input on survey questions along with the Registry's scientific advisory group.
Published results of the first and second Registry surveys, particularly those regarding the health of Lower Manhattan residents, area workers and students, helped support passage of the James L. Zadroga 9/11 Health and Compensation Act. The Act, signed into law by President Obama earlier this year, includes a WTC Health Program for survivors who, for the first time, will be able to access services anywhere in the country. Rescue and recovery workers and volunteers have had access to similar services since 2008.
The previous two surveys have yielded important information about health effects of the disaster. Those findings are summarized below:
Significant findings from the WTC Health Registry's second survey (5-6 years after 9/11) include:
Lower Manhattan residents and area workers with persistent respiratory symptoms were more likely to have abnormal lung function than those without these symptoms (American Journal of Respiratory Critical Care Medicine, 2011).


19% of enrollees reported new, probable posttraumatic stress disorder (PTSD) 5-6 years after 9/11, an increase from 14% 2-3 years after 9/11. Rates of PTSD were highest among low-income (32%) and Hispanic (31%) enrollees, and passersby in Lower Manhattan (23%) including commuters and tourists on the day of the attacks (Journal of the American Medical Association, 2009).


10% of enrollees reported post 9/11 asthma 5-6 years after the attacks. Rates of new asthma were highest among rescue and recovery workers who worked on the debris pile on 9/11 (Journal of the American Medical Association, 2009).
Significant findings from the WTC Health Registry's first survey (2-3 years after 9/11) include:
About the WTC Health Registry
The World Trade Center Health Registry became the largest post-disaster public health registry in United States history when 71,000 people directly exposed to the WTC disaster voluntarily enrolled and completed the initial survey in 2003-2004. The Registry was closed for enrollment in 2004; however Registry findings continue to contribute to understanding the health impacts of 9/11 among all persons exposed to the disaster. The Registry was established by the New York City Department of Health and Mental Hygiene and the federal Agency for Toxic Substances and Disease Registry. The National Institute of Occupational Safety and Health has funded the Registry since May 2009. As of June 2011, the Registry has published 15 peer-reviewed papers in scientific journals, with another five to be published this year. Additionally, several university-based researchers have recruited Registry enrollees for other 9/11-related studies and published their findings. More information about the Registry and its findings can be found on the Registry's website.
Enrollees can contact the Registry by email at wtchr@health.nyc.gov or by phone through 311 or direct at 1-866-692-9827.
###