June 30, 2011 - The NYC Department of Health and Mental Hygiene and the NYC Human Resources Administration (HRA), today launched the 2011 Health Bucks season at farmers' markets across the city. Health Bucks are $2 coupons redeemable for fresh fruit and vegetables at participating farmers' markets. A customer receives the coupon for every $5 he or she spends using an Electronic Benefits Transfer (EBT) card to purchase food at a farmers' market increasing his or her purchasing power by 40%.  Health Bucks, which began as a pilot program in the Bronx in 2005 has expanded each year and today is available at 65 participating markets located in all five boroughs, helping more families eat healthier. In 2010, approximately 89% of Health Bucks distributed to customers with EBT cards were used to purchase fresh fruit and vegetables.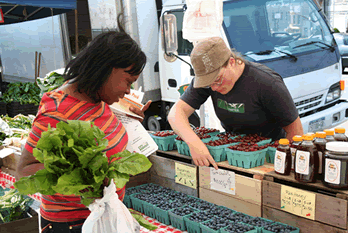 "We want all New Yorkers to be able to take advantage of farmers' markets and have access to nutritious, fresh fruits and vegetables," said Dr. Thomas Farley, New York City Health Commissioner. "Health Bucks make fruits and vegetables more affordable and bring people to the farmers' markets, where many spend some of their own money to buy these healthy items. This program is a direct way to help people get the best foods and prevent health problems ranging from heart disease to cancer."
"Health Bucks is an excellent program that helps New Yorkers save money while promoting a healthier diet," said HRA Commissioner Robert Doar. "Individuals and families receiving food stamps should take advantage of Health Bucks' savings and shop for nutritious food choices by visiting a participating farmers' market in their neighborhood."
Health Bucks is a program of the Health Department with the cooperation of HRA, the New York State Department of Agriculture and Markets, and community organizations throughout the City.
In addition to being available at participating farmers' markets, a limited supply of coupons is available through community organizations located in Health Department District Public Health Office neighborhoods in the South Bronx, North and Central Brooklyn, and East and Central Harlem. These organizations service neighborhoods that have high rates of poverty and chronic illness, as well as low consumption rates for fresh fruits and vegetables. Organizations in these neighborhoods may apply to distribute Health Bucks as part of their nutrition programming.

Health Bucks will be available at 65 farmers' markets throughout the city during the 2011 farmers' market season from July 1 to Nov. 15.
Use your Electronic Benefits Transfer (EBT) card to buy fresh produce at a farmers' market participating in the program.
Use your Health Bucks on your next visit to the farmers' market to buy more fresh fruits and vegetables before they expire on Nov. 15.
Spend Health Bucks at any of the 65 participating farmers' markets – not just the one where you received them.
Attend a Stellar Farmers' Market cooking class and receive a Health Bucks coupon. Stellar Farmers Markets is a program of the Health Department that provides nutrition workshops and cooking demonstrations at 18 markets across the City. Participants receive a $2 Health Buck and a taste sample of the featured recipe following the workshop.
For a complete list of farmers' markets that participate in the Health Bucks and the Stellar Farmers Markets program, search Health Bucks or Stellar Farmers' Markets on www.nyc.gov or for more information visit Eating Healthy NYC on Facebook.
###