In anticipation of today's National HIV Testing Day, the New York City Health Department, community partners, radio station Hot 97 and hundreds of New Yorkers gathered this past Saturday, June 25, at the historic Paradise Theatre in the Bronx to celebrate the success of The Bronx Knows, a three-year borough-wide HIV testing initiative. Launched in 2008, The Bronx Knows initially set out to test the estimated 250,000 Bronx residents who had never been tested before. In the three years since the Health Department and its 76 Bronx community partners began this collaborative effort, all targets for increasing testing have been surpassed.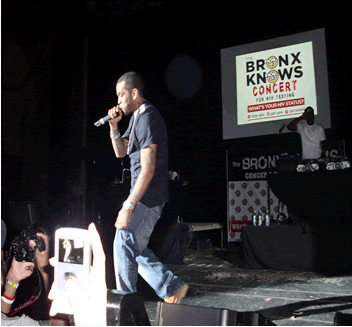 "The Bronx Knows initiative has been a great success in helping Bronx residents learn their HIV status and connecting those who tested positive gain early access to care," said Dr. Thomas Farley, New York City Health Commissioner. "It is one of many interventions throughout New York City to expand HIV testing – a critical step towards our ultimate goal of integrating HIV screening into routine medical care."
The Bronx Knows Concert for HIV Testing marked the formal conclusion of The Bronx Knows HIV testing initiative and featured local performers along with headlining rap artist Lloyd Banks. More than 2,500 people were tested and received a ticket to the concert. More than 600 fans filled the theater for the performances. Free tickets were handed out during the four weeks leading up to the event to anyone who tested at participating Bronx Knows partner agencies*. Thanks to mobile testing units provided by The Bronx Knows partner agencies, 225 concert fans who were unable to test in the weeks prior to the event were able to test and receive a free ticket in the final hours before the event.
The Bronx Knows community partners have worked with the Health Department to expand the offer of confidential and voluntary HIV testing, linkage to care, as well as HIV/AIDS education, to Bronx residents as part of the initiative. Bronx Knows partners have offered and conducted 607,570 HIV tests and have identified over 4,800 confirmed HIV positive individuals to date. Of those, at least 1,700 were reported to be newly diagnosed and more than three-quarters have been linked to care.
"The Bronx Knows initiative is an exceptional example of what can be accomplished when community partners, government and individuals all work together," said Dr. Monica Sweeney, Assistant Commissioner for HIV/AIDS Prevention and Control. "As a result of this initiative, nearly two thousand Bronx residents were newly diagnosed with HIV and linked to care. The real benefit for all those Bronx residents who were tested is that they now know their HIV status and can take appropriate action: get into treatment if positive, or if negative, reduce their risk so that they remain negative."
To see pictures from The Bronx Knows Concert and learn more about the HIV testing initiative, search The Bronx Knows on NYC.gov or for more information about HIV testing in NYC visit the NYC Knows Facebook page www.facebook.com/NYCKnows.
Bronx HIV Diagnoses & Deaths Show Importance of Learning Your Status
Although much progress has been made in the past decade, New York City continues to be the epicenter of this country's HIV epidemic. Some 3,669 New Yorkers were diagnosed with HIV in 2009, and over 20% had already developed AIDS by the time they learned their status. In the Bronx, 754 residents were diagnosed with HIV in 2009, and more than one-fifth had already developed AIDS at the time of their diagnosis. Bronx residents account for more than 20% of New York City's HIV diagnoses and more than a quarter of HIV-related deaths each year.
The Bronx Knows… and You Can, Too
Any New York City resident can get a free HIV test at one of the Health Department's Sexually Transmitted Disease (STD) or Tuberculosis (TB) clinics. New York State law now requires most medical facilities to offer a voluntary HIV test to anyone ages 13-64 receiving emergency, inpatient or outpatient primary care health services, with limited exceptions. If you are not offered an HIV test the next time you visit a primary health care provider, ask for the test. For a complete list of locations, visit www.nyc.gov (search: HIV testing) or call 311.
If you have ever been sexually active or have ever used injection drugs (even once) don't assume that HIV is someone else's problem. Everyone needs to be tested. In addition to getting tested, using a condom every time you have anal, oral or vaginal sex protects you and your partners from getting HIV and other STDs, such as syphilis, gonorrhea, chlamydia, genital herpes and hepatitis B.
The Health Department offers free latex condoms at thousands of venues around New York City. Call 311 or go to NYC.gov for more information. To download the free NYC Condom Finder application, New Yorkers with smart phones can search for 'NYC Condom' in the Android Market or the iPhone App Store on their mobile devices or log on to the NYC Condom facebook page for more information. The City also provides free lubricant, female condoms, and male condoms in different sizes.
The Bronx Knows Partners (PDF)
###