March 23, 2011 – In observance of World Tuberculosis Day, the Health Department today released new figures showing a continued local decline in tuberculosis cases since last year. New York City recorded 711 cases of TB in 2010 – a 6% decrease from 2009 and an 81% drop from the high levels seen in the early 1990s. This continued decline reflects national trends.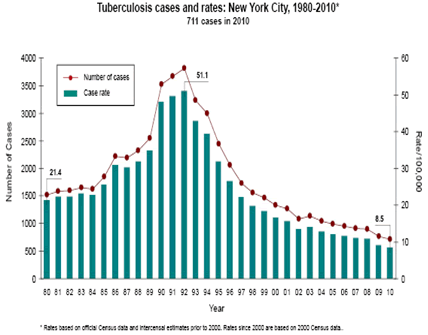 While the number of TB cases overall has declined, the percentage of foreign-born cases has risen. In an effort to reach the city's foreign-born population, the Health Department is launching efforts to increase the reach of its TB control activities among this group of New Yorkers. The agency is working closely with private providers and communities to determine how to best address TB in affected communities.
"The Health Department provides excellent, free TB clinical services for anyone who needs them," said Dr. Thomas Farley, New York City Health Commissioner. "We never ask about immigration status. Comprehensive treatment for TB is not only beneficial for patients, but it also benefits the community at large."
"We have done an excellent job fighting TB in the US-born population," said Dr Chrispin Kambili, the Health Department's assistant commissioner responsible for TB control. "Our task now is to translate those successes into programs that will similarly reduce TB case rates among foreign-born New Yorkers. The Health Department is working to address health disparities for those who are foreign-born while also improving health for all."
Today, the Health Department will host its annual World TB Day conference for healthcare providers. The theme is "Innovations and Challenges: Fighting TB in NYC." Department staff and invited TB experts will present the latest data on TB in New York City and update attendees on new technologies used in diagnosing TB. The conference will help providers who serve foreign-born populations better understand up-to-date information about testing and treatment of tuberculosis.
"Addressing TB in foreign-born New Yorkers should be a community effort as well as a healthcare provider effort," said Dr. George Alonso, Director of the Tuberculosis Surveillance and Treatment Unit at Elmhurst Hospital Center. "Community leaders can help by informing their communities about TB, and healthcare providers can ensure that those at risk are tested and treated, when necessary. In New York City, there is no reason for TB to go undiagnosed."
Tuberculosis in New York City
While New York City's TB rate continues to fall, it is still more than twice the national rate (8.5 versus 3.8 cases per 100,000 people in 2009). The neighborhoods with the highest TB rates are Sunset Park (24.1 cases per 100,000 people), West Queens (20.1), Flushing (14.5), Borough Park (13.6), and Fresh Meadows (12.9).
Last year, 82% of the city's TB cases occurred in foreign-born New Yorkers. The top five countries of origin among foreign-born persons with TB were China (15%), Ecuador (6%), the Dominican Republic (6%), Mexico (5%) and Bangladesh (4%). TB remains a major health problem in much of the developing world. Worldwide, more than 9 million people become sick with TB each year and almost 2 million people die from the disease.
Drug resistance is a major challenge to TB control. New York City has seen a 97% decline in multidrug-resistant tuberculosis (MDR-TB) since the early 1990s due to the city's collaborative resolve to control TB. The city recorded just 11 MDR-TB cases last year.
About Tuberculosis
Tuberculosis is a bacterial infection that spreads from person to person through the air. The infection can remain latent for many years before causing active disease, usually in the lungs. When people who are sick with TB cough or speak, they expel TB germs into the air. Other people may breathe in the TB germs, and some may become sick.

TB is not spread by shaking hands, sharing food or having sex, and brief contact with someone who is sick (on a train or bus, for example) is unlikely to cause infection. TB typically spreads through close, daily contact.
Most people don't know they have TB infection until they become sick. People at high risk can stop TB by getting themselves tested and taking treatment to prevent TB disease.
Who Should Get Tested for TB
People who have symptoms of active TB disease (a bad cough for a least three weeks, weakness or fatigue, weight loss, fever, night sweats)
People who have spent a long time with someone who has active TB disease (a family member, friend, or co-worker)
People who have recently come from a country with a high rate of TB
People who have HIV infection, lowered immunity, or certain medical conditions such as diabetes or chronic kidney failure
People who have worked or lived in a homeless shelter, prison or other group setting
Free Testing and Treatment
The Health Department offers free, confidential and convenient TB testing and state-of-the-art treatment in all five boroughs. Treatment is available to all, regardless of immigration status. For more information call 311 or search TB at www.nyc.gov.
The New York City Health and Hospitals Corporation (HHC) offers tuberculosis testing and treatment at its 11 hospitals and six diagnostic and treatment centers regardless of a person's ability to pay or immigration status. Go to www.nyc.gov or call 311 to find a hospital or diagnostic and treatment center near you.
###