Tuesday, December 7, 2010 -When you get HIV, it's never just HIV. Treatment can control the virus and save your life, but the infection still has lifelong consequences that can range from dementia to bone loss and cancer. That is the message of a new Health Department educational campaign that debuts this week on television and the Internet. The campaign speaks directly to the city's most heavily affected population – gay men and other men who have sex with men – in an effort to combat complacency about HIV.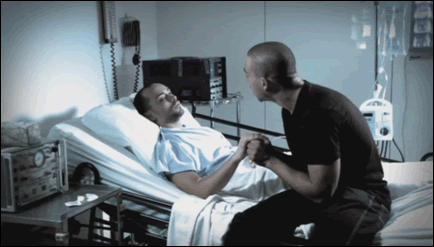 HIV infection is no longer the death sentence it once was. By starting medication early and adhering to it carefully, HIV-positive people can live long lives and reduce the risk of infecting others. But as the spots make clear, living with HIV is still no picnic. Treatment can suppress the virus and prevent the destruction of the immune system, but growing evidence suggests that the damage done at the beginning of the infection can have lasting effects – even in people who get treatment. The conditions depicted in the new video – bone loss, dementia and anal cancer – are just three of many that HIV can lead to. "Stay HIV Free," the spot urges. "Always Use a Condom."
The video will run on cable and broadcast television for the next two weeks and will reappear for two weeks in January. It will also appear on YouTube. The Health Department will distribute a related educational brochure through community groups and service organizations. The brochure is available at nyc.gov (keyword "Never Just HIV") or by calling 311.
"I hope all New Yorkers will heed the stark message of this campaign and take personal responsibility for their health and that of their partners," said Dr. Thomas Farley, New York City Health Commissioner. "We have made tremendous progress in the fight against HIV/AIDS, but this is no time for complacency. HIV continues to take a major toll on men who have sex with men – regardless of whether they identify as gay – and the virus is spreading more each year in those under 30. This spot should serve as a wake-up call. Unprotected sex is still dangerous, and more partners means more risk."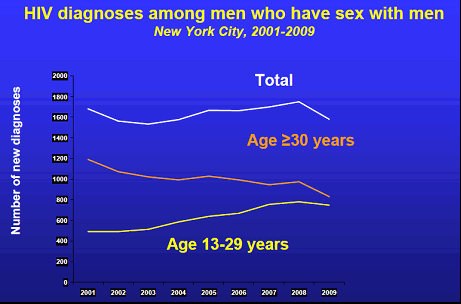 Gay men and other men who have sex with men (MSM) account for about 44% of newly diagnosed HIV infections in New York City each year – more than any group – and they experience more than half of new diagnoses (56%) among men. The proportion is even higher (82%) among men whose risk factors are known. The picture is particularly alarming for black and Latino men, who together account for nearly seven out of 10 new diagnoses among MSM in New York City.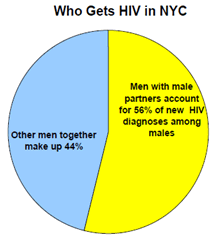 Though new diagnoses have declined among older MSM over the past decade (from 1,190 in 2001 to 830 in 2009), the number has increased among those under 30 – from 489 in 2001 to 747 last year.
Unprotected sex holds special risks for MSM, and the reasons are partly biological. Rectal tissue tears more easily than vaginal tissue, enabling HIV to pass readily between partners if one is infected. Rectal tissue also is more permeable than vaginal tissue, meaning that HIV can be absorbed into the body even when the tissue is intact. To make matters riskier, HIV is more prevalent in the MSM community than in other parts of the population – meaning that any given encounter is more likely to result in exposure.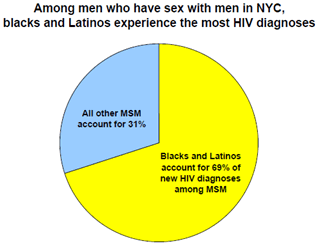 Condoms effectively counter these hazards when used correctly and consistently. But recent findings suggest that unprotected sex is still common. When Health Department researchers surveyed 685 MSM who said they'd had at least two sexual encounters during the previous six months, 40% of them reported unprotected anal sex. The figure was 56% among those who were HIV-positive, 36% among those who were still negative.
"For the most part, staying HIV-free is a conscious choice," said Dr. Monica Sweeney, assistant commissioner for the Bureau of HIV/AIDS Prevention and Control. "We all need to step up and do what is necessary to stay healthy and protect ourselves. Having fewer partners is the surest way to limit your exposure. And by using a condom every time you have sex, you can greatly reduce the chances that exposure will mean infection."
How to protect yourself and others
If you're having sex, the safest relationship is a faithful one with one partner who is HIV-negative. If your partner is HIV-positive – or either of you has other sex partners – here are some ways to reduce your risk:
Never have sex without a condom. Use only latex or polyurethane condoms, with lubrication.
Reduce your number of sexual partners. The more partners you have, the greater your risk.
Avoid alcohol and drugs when you have sex. You're less likely to use a condom if your judgment is impaired.
Know your sex partners. Get tested together for HIV and other STDs before you have sex.
Know your HIV status – get tested!
If you have ever had sex or have ever injected drugs, even once, you should get tested for HIV. Men who have sex with men should get tested at least every six months if you're at continued risk. Just remember that taking an HIV test does not protect you from HIV.
Your regular health care provider can give you an HIV test. In fact, New York State law now requires primary care providers to offer voluntary HIV tests to any patient between 13 and 64 years of age, even during routine visits. If you are not offered an HIV test, ask for it.
Free and confidential HIV tests also are available at Health Department STD clinics in all five boroughs. For clinic locations and hours, call 311 or visit nyc.gov (keyword HIV testing). The clinics will serve you regardless of your immigration or insurance status.
Get tested for other STDs
If a sexually transmitted disease causes breaks or sores in your skin, it can increase your risk of getting or spreading HIV. STDs can also weaken your immune system, making you more likely to become infected with HIV if you're exposed to it.
Condoms: Still the Best Protection
Using a condom every time you have anal, oral or vaginal sex protects you and your partners from getting HIV and other STDs, such as syphilis, gonorrhea, chlamydia, genital herpes and hepatitis B.
The Health Department offers free latex condoms at thousands of venues around New York City. Call 311 or go to nyc.gov (keyword condoms) for more information. The City also provides free lubricant, female condoms, and male condoms in different sizes.
###