November 22, 2010 – With the holiday travel season upon us, the Health Department and the Department of Transportation (DOT) today released new research findings that highlight the need for drivers and pedestrians to pay close attention to their surroundings, even if the light is in their favor. New York City's traffic fatality rate is just one quarter of the national average and has declined at twice the national rate in recent decades. Yet traffic accidents still rank among the city's leading causes of injury-related death and hospitalization. NYC's traffic fatalities occur mainly on major roadways – especially at intersections – and more than half the victims are pedestrians. The new report, Improving Traffic Safety in New York City, uses data collected from 2005 through 2009 to pinpoint the greatest risks and identify simple ways to reduce them.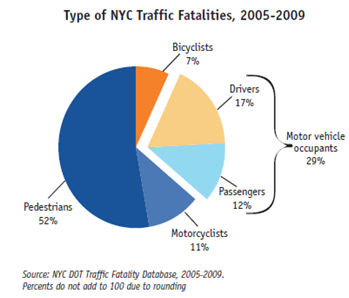 The report, available at nyc.gov, shows that 1,467 people died in New York City traffic accidents during the five-year study period. Pedestrians accounted for most of the deaths (52%, compared to just 14% nationally), followed by motor vehicle occupants (29% versus 75% nationally), motorcyclists (11%) and bicyclists (7%). Manhattan recorded the highest number of pedestrian fatalities per square mile, but the highest percentage of the city's pedestrian fatalities (32%) occurred in Brooklyn.
Males experience far more injury deaths than women. During the five-year study, they accounted for 60% of deaths among pedestrians, 87% of those among bicyclists, 87% of those among drivers and 98% of those among motorcyclists. Age also played a role. People in their 20s make up just 14% of the city's population, but they accounted for 36% of all traffic deaths and faced greater risks both as drivers and as pedestrians.
"New York City has an extraordinary record of traffic safety," said Dr. Thomas Farley, New York City Health Commissioner. "Our streets are among the nation's safest, and our research shows they're getting safer every year. The City's transportation and police departments have paved the way for this public health triumph. Now we should build on that success."
"New York's streets are the safest they've ever been," said DOT Commissioner Janette Sadik-Khan. "The City will continue to take aggressive steps to make them even safer with a renewed focus on engineering, enforcement and education."
"Although New York enjoys a good safety record, there is always room for improvement," said Police Commissioner Raymond W. Kelly. "The Police Department's enforcement focuses on those illegal practices that kill: drunken driving, speeding and inattentiveness linked to hand-held phone calls and texting."
During the study period, 57% of the city's traffic fatalities occurred on major streets (arterials) such as Broadway in Manhattan and Woodhaven Boulevard in Queens, even though arterials make up only 15% of the city's roadways. Some 566 pedestrians and bicyclists died on arterials between 2005 and 2009, as did 267 motor-vehicle occupants.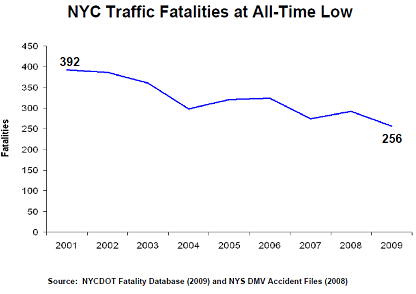 Road type aside, intersections posed the greatest risk of accidents. Approximately 66% of pedestrian fatalities occurred at intersections, and 45% of those killed at intersections by motor vehicles were obeying traffic signals when they were struck. To improve pedestrian safety, the Department of Transportation is re- engineering 60 miles of high-risk streets, including 20 intersections, for pedestrian safety, and will install countdown signals at 1,500 intersections. Pedestrian countdown signals display LED numbers that count down the number of seconds remaining before the "flashing hand" phase turns solid red.

The report also confirms the risks associated with speeding. More than a quarter (26%) of the city's traffic fatalities involved a vehicle traveling at an unsafe speed. New York City restricts speeds to 30 mph on most roads specifically to protect pedestrians. Studies of pedestrian deaths suggest that a vehicle traveling 40 mph is four times more likely than one traveling 30 mph to cause a fatal injury. In addition, seatbelt use was low among motor vehicle occupants killed in crashes. Seatbelt use data were available for only 21% of occupant fatalities, but among the deaths analyzed, seatbelts were not used by 44% of the drivers and 57% of the passengers killed in vehicle crashes.
Other major contributors to NYC traffic fatalities included driver inattention (17%), failure to yield (10%), and alcohol and drug use (9%).
Safety on city streets is every New Yorker's responsibility. Here are some ways for drivers and pedestrians to make New York City streets safer:
Drive at or under the posted speed limit, which is 30 miles per hour on most NYC streets.


Never use a cell phone or text while driving. A new state law prohibits the use of hand-held cell phones while driving.


Always yield to pedestrians, particularly when making left-hand turns. At a red light or STOP sign, stop before the crosswalk.


Never drink and drive. If you have to travel by motor vehicle, either abstain from drinking or designate another person to drive.


Wear your seat belt and make sure children use proper restraint systems.


When walking, always cross at intersections and do not cross against the light.


Older adults in particular should give themselves time to cross streets by waiting for a newly turned green or walk signal.
###