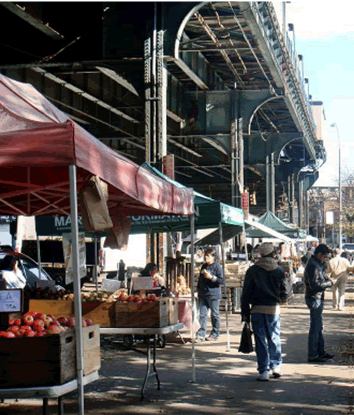 November 17, 2010 – The Health Department and Human Resources Administration have distributed more than $200,000 in free coupons for fresh produce over the past four months, enabling food stamp users to eat healthfully while stretching the value of their federal nutrition subsidies. The produce coupons, known as Health Bucks, increase the value of food stamp benefits by 40% when redeemed at participating farmers' markets in New York City. Whenever a customer spends $5 in food stamp benefits at a participating market, the customer receives a $2 Health Buck redeemable for fresh fruit and vegetables.
The City has distributed Health Bucks through 60 farmers' markets during the current season, which runs from July through mid-November. That number is up from 49 markets last year – and from 29 in 2006, the Health Bucks program's second year. The initiative targets neighborhoods where produce consumption is low and where obesity, diabetes and other diet-related illnesses are widespread.
"The Health Bucks program is one of New York City's many efforts to make everyday environments conducive to good health," said Dr. Thomas Farley, New York City Health Commissioner. "We know that fruits and vegetables are an important part of a healthy diet. By making them more accessible, programs like this can help low-income families avoid cancer, high blood pressure and stroke. We're pleased to see that other jurisdictions across the country are following our lead and implementing similar fresh produce coupon programs for their residents."
Data suggest that Health Bucks can significantly increase food stamp sales at participating farmers' markets. In an analysis of Greenmarkets – farmers' markets operated by the non-profit group GrowNYC – the Health Department found that markets accepting Health Bucks did roughly twice as much food stamp business as those not involved in the program. The 13 Greenmarkets that offered Health Bucks to their food stamp customers racked up $166,000 in food stamp sales during the 2009 season – $100,000 more than the 11 Greenmarkets that did not participate.
"These numbers are proof that purchasing fresh fruits and vegetables has become easier for food stamp recipients at farmers' markets throughout New York City," said HRA Commissioner Robert Doar. "This cooperative effort with the Health Department, the New York State Department of Agriculture and Markets, and community organizations throughout the city is just one of HRA's many initiatives to improve benefits for low-income New Yorkers."
While providing financial incentives, the Health Department also sponsors free cooking and healthy meal planning workshops at 15 markets dubbed "Stellar Farmers' Markets" to help consumers learn how to stretch food dollars and prepare healthy meals from seasonal produce. Supported by the United States Department of Agriculture, the Stellar Farmers' Markets reach an average of 35,000 New Yorkers during the market season. A list of markets that host workshops is available at nyc.gov, keyword "Stellar Farmers' Markets."
The Health Department also collaborates with local community organizations to ensure that the neediest New Yorkers benefit from the farmers' markets in their areas. At the Corona Greenmarket in Queens, the Health Department and a partner organization, Public Health Solutions, link people in the federal Women, Infants and Children program (WIC) to farmers' markets through the Farmers Market Nutrition Program.
About Health Bucks
New York City's Health Bucks program started in 2005 as a pilot program in the Bronx. It expanded in 2006 to all three Health Department District Public Health Office areas – the South Bronx, East and Central Harlem, and North and Central Brooklyn – neighborhoods with high rates of poverty and chronic illness. Markets in Queens and Staten Island have also joined the initiative this year. The Health Department administers the Health Bucks program with the Human Resources Administration, the Farmers Market Federation of New York and various markets and partner organizations. For more information, or a list of participating farmers' markets, visit nyc.gov and search for the keyword "Health Bucks." Most farmers' markets across the city are open from July through mid-November.
About the Food Stamp Program
More than 1.7 million New York City residents participate in the federal food stamp program, known formally as the Supplemental Nutrition Assistance Program (SNAP). The City's efforts to improve access to the program include shortening the application and simplifying the application process; translating program information into various languages (Spanish, Russian, Korean, Mandarin, Haitian, Creole and Arabic); automatically enrolling recipients of Supplemental Security Income (SSI) into the program; working with community-based organizations to facilitate electronic applications; allowing employed people to apply by telephone to avoid lost work time; and allowing SSI recipients and eligible seniors to recertify by mail.
With support from the Center for Disease Control's Communities Putting Prevention to Work Program, the Health Department funded 29 farmers' markets to promote acceptance and use of food stamps. New York City and the State Department of Agriculture and Markets have been working together over the past decade to increase the number of farmers' markets with electronic benefit terminals to accept food stamps. In 2006, only 15 of the 29 farmers' markets accepting Health Bucks had electronic benefit terminals. This farmers' market season, 60 farmers' markets both accept Health Bucks and accept food stamps electronically. With the support of the City Council, Greenmarket has also expanded the ability of their markets to accept food stamps. This year, 40 of the 51 Greenmarkets in the city have terminals to perform electronic food stamp transactions.
###