November 3, 2010 – Doctors who use electronic medical records do a better job of keeping their patients healthy. That is the upshot of a new Health Department analysis of 51 primary care practices in New York City. The analysis, funded by the Agency for Healthcare Research and Quality, was presented in Atlanta last week at a meeting of the Multi-State Collaborative for Health Systems Change. Researchers examined health care interactions before and after clinicians in these practices started receiving prevention-oriented information and alerts through an electronic health-record system developed by the City's Primary Care Information Project (PCIP).

The analysis focused on seven clinical practices that can reduce preventable deaths. These include talking to patients about their aspirin intake, their blood pressure, their cholesterol levels and their blood sugar, as well as their smoking habits and their interest in starting a smoking cessation program. The clinicians in the study were encouraged to heed electronic reminders for these and other practices, such as screening for breast cancer and measuring body mass. The electronic alerts, which are displayed on the health care provider's computer screen during a patient's appointment, remind the provider to ask questions, conduct screenings and offer treatments that accord with each patient's medical history and previous care.
As the providers in the study received training and used the electronic alerts, their practices improved markedly. They were more likely to screen their patients for high blood pressure, obesity, diabetes and cancer – and their patients were more likely to control their cholesterol and blood pressure. Within six months, 52% of patients with high cholesterol were managing it effectively (up from 39% at the outset), and 56% of those with high blood pressure had it under control (up from 49%). If blood pressure control improved by a similar margin nationally, an estimated 12,000 lives could be saved every year. High blood pressure is the leading risk factor for heart disease, which remains the leading cause of premature death, both locally and nationally.
"This analysis of the Primary Care Information Project confirms that easy-to-implement provider prompts within a patient's electronic health record can help transform health care," said Dr. Thomas Farley, New York City Health Commissioner. "By reminding care providers to ask patients about the most pressing health issues and to screen patients for manageable health conditions, we can ensure that more patients receive preventive care and avoid serious illnesses."
While electronic alerts can improve care, they work best if a patient's medical history is recorded properly in his or her file, as clinicians need accurate histories in order to determine the best next treatment steps. The Health Department continues to educate physicians and other providers about how to get the most benefit out of electronic health records and alerts. As the health care system becomes more focused on prevention, disease screening initiatives and computer-based provider reminders will help to ensure that patients receive consistent preventive care – care that can extend and improve their lives.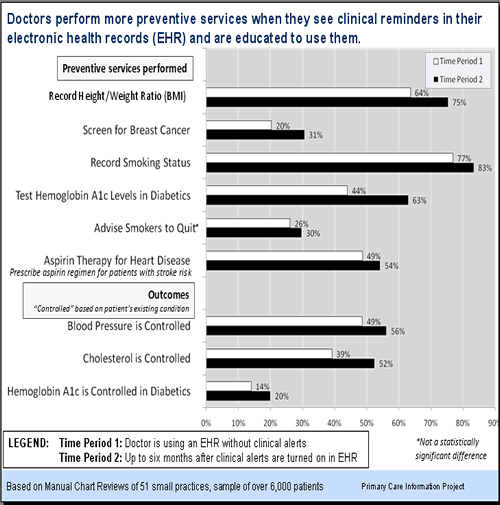 About the Primary Care Information Project
Founded in 2005, PCIP has helped more than 2,000 New York City doctors who practice in underserved areas adopt a prevention-focused electronic health record system. Providers can learn more about prevention-focused electronic health records from PCIP's Health IT Extension Center NYC REACH. Visit www.nycreach.org for more information.
###