October 29, 2010 – The NYC Condom will don a new costume this Sunday at the Greenwich Village Halloween Parade. The condom's new wrapper – chosen by popular vote after the Health Department asked New Yorkers to submit designs last winter – uses a familiar symbol to remind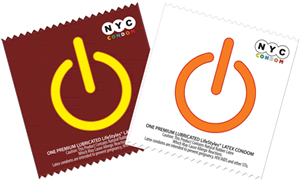 New Yorkers that they have the power to stop sexually transmitted infections and prevent unplanned pregnancies. The special limited-edition power button wrapper comes in two distinct colors.
Dr. Monica Sweeney, assistant commissioner for the bureau of HIV/AIDS Prevention and Control, and winning condom wrapper designer Luis Acosta of Kew Gardens, Queens, will hand out 15,000 of the newly wrapped condoms during the Halloween parade, which runs from 7 pm to 10 pm on Sunday. More than 2 million New Yorkers and visitors turn out for the parade each year. Health Department street teams will hand out an additional 25,000 special-edition condoms and informational palm cards at the following transportation hubs on Sunday from 5 pm to 8 pm:
Brooklyn: Atlantic Ave-Pacific St. (B, D, M, N, Q, R, 2, 3, 4, 5 and LIRR trains)
Bronx: 161st Street-Yankee Stadium. (B, D and 4 trains)
Manhattan: 125th Street-Lexington Avenue. (4, 5, and 6 trains)
Queens: 74th Street-Broadway/Jackson Heights-Roosevelt. (E, F, M, R and 7 trains)
Staten Island: Staten Island Ferry, Staten Island side
Beginning Tuesday, November 2nd, the limited-edition condoms will be available, in limited supply, at the following top distribution sites in the city:
Brooklyn: Turning Point, 5220 4th Avenue, 11220
Bronx: United Bronx Parents, 966 Prospect Avenue, 10459
Manhattan: William F. Ryan Community Health Network, 279 E. 3rd Street, 10009
Gay Men's Health Crisis, 119 West 24th Street, 10011
Queens: AIDS Center of Queens County, 161-21 Jamaica Avenue, 7th Floor, 11432
Staten Island: Community Health Action of Staten Island, 380 Van Duzer Street, 10304
Look for the power button-wrapped condoms in your neighborhood nail salons, barbershops, bars and restaurants starting in mid-November. The City will distribute 10 million of them, free of charge, through all the usual outlets while supplies last. The outlets include community organizations, college campuses and hundreds of retail establishments throughout the city. New Yorkers can call 311 or visit nyc.gov to get more information on how to order condoms and practice safer sex.
To celebrate the new condom wrapper's arrival, the Health Department is asking New Yorkers to visit the NYC Condom Facebook page and upload pictures of themselves displaying the new wrapper in front of familiar landmarks in all five boroughs. The photo must be original, and can't include images that are sexually explicit. Entries will be reviewed by public health and social marketing experts at the Health Department. On November 16th, the agency will announce the best entry from each borough on Facebook and send the winners a NYC Condom power button tote bag.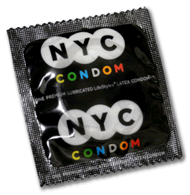 "Despite gains made in condom awareness, HIV and other sexually transmitted diseases continue to spread at high rates in the city," said Dr. Thomas Farley, New York City Health Commissioner. "Approximately 4,000 New Yorkers are newly infected with HIV each year, while more than 10,000 New Yorkers contract gonorrhea and almost 60,000 contract chlamydia. We hope this unique new package design will remind New Yorkers of their own power to take control of their sexual health and protect themselves."
"The NYC Condom program is doing all of New York City a great service, and I'm very excited to be a part of it," said Luis Acosta, winning condom wrapper designer. "If you're having sex, take control and have safer sex – NYC Condoms are available and they're free."
City residents were invited to give the NYC Condom a new look in December of last year through the Health Department's online NYC condom wrapper design contest. The power button design garnered a close win with 23% of the 15,000 online ballots cast. A high-resolution image of the wrapper is available at nyc.gov. The NYC Condom is a lubricated Lifestyles male condom made by Ansell Healthcare Products LLC – the same one sold in stores – but it's free. Any NYC-based organization, public or private, can order a supply at nyc.gov. Just search for the keyword "condoms" and click "Where." New York City residents can also find free condoms at venues in their zip code by using the same website.
How to use a male condom correctly:
Put the condom on when the penis is erect, before any sexual contact occurs. Unroll it all the way down.
Leave a half-inch at the tip to collect semen. Squeeze out any extra air.
If you accidentally put on a condom the wrong way, discard it and use a new one.
Use a water-based lubricant (e.g., K-Y jelly, Astroglide, Kama Sutra, Liquid Silk).
After sex, pull out before the penis softens. Hold the base of the condom to make sure its contents do not spill.
Dispose of the condom – just remember to not flush it down the toilet, it can clog up your pipes.
For information on how to use a female condom, go to nyc.gov – keyword "condoms" – and click "How." City residents can get free female condoms by calling 311 or visiting one of the hundreds of local businesses and community organizations that distribute them. For a list of locations, visit nyc.gov – keyword "condoms" – and click "Where."
Condoms should always be stored at room temperature (20 to 25 degrees Celsius or 68 to 77 degrees Fahrenheit), and latex condoms should be protected from prolonged exposure to moisture, direct sunlight and fluorescent light. Don't carry condoms in your wallet or car for too long – this can make them break easily. Make sure to always check expiration dates before use.
The City recommends the following steps to protect your health:
If you have ever had sexual intercourse – anal, vaginal or oral – or ever used intravenous drugs (even once), don't assume that HIV is someone else's problem. Get tested for HIV and other sexually transmitted infections (STI). We all need to know our HIV status. Any New York City resident can get a free HIV test at one of the Health Department's STD or TB clinics. For a complete list of locations throughout the city, call 311 or visit nyc.gov, keyword "STD clinics." In addition, New York State law now requires most medical facilities to offer a voluntary HIV test to anyone ages 13-64 receiving emergency, inpatient or outpatient primary care health services, with limited exceptions. If you are not offered an HIV test the next time you visit a health care provider and you want to know your status, ask for the test. For more information, visit nyc.gov, keyword "HIV testing."
Use a condom every time you have sex.
Reduce the number of people you have sex with. More partners mean more risk for HIV and other sexually transmitted infections.
Avoid using alcohol and drugs before you have sex. You're less likely to use a condom if your judgment is impaired.
If you're HIV-positive, inform your partner(s), always use a condom to protect yourself and others – and seek regular health care.
###