October 5, 2010 – In a continuing effort to educate New Yorkers about the potentially serious health effects of consuming sugary drinks, the Health Department today launched the second Internet video of its "Pouring On the Pounds" campaign. The 50-second spot features the same young man, seated at a lunch counter and blithely stuffing his mouth with packets of sugar while other diners look on in horror. The irony is that they're taking in just as much – if not more – from the sweetened sodas they're sipping.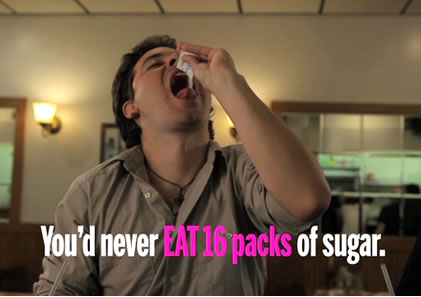 The new video plays the theme of an awareness campaign that is just finishing its run in the New York City subways. The subway posters urge New Yorkers to consider what goes into a large serving of regular soda. The answer: as many as 26 packets of sugar. Like the subway campaign, the video raises the question: If you wouldn't eat it, why drink it?
"Roughly three out of five New Yorkers are overweight or obese, and sugary beverages are fueling the epidemic," said Dr. Thomas Farley, New York City Health Commissioner. "While this video is lighthearted, its message is serious. The sugar consumed in these drinks can lead to obesity and other health consequences, including diabetes and heart disease. We hope that this campaign will encourage people to consider healthier alternatives to sugary drinks, such as water, seltzer or low-fat milk. Even small changes can have real health benefits."
The new video can be seen at the Health Department's website. The agency is also posting it on You Tube so that people can easily share it with friends.
Americans now consume an average of 200 to 300 more calories each day than we did 30 years ago. Nearly half of these calories come from sugar-sweetened drinks, which can contain as many as 16 packets of sugar in a 20-ounce bottle and a staggering 26 packets in a 32-ounce serving. Even moderate consumption of these products can have health consequences. In a study of 91,000 women, those who drank one or more sugary drink each day were 83% more likely to develop diabetes over a four-year period than those who drank less than one a day. In New York City alone, diabetes causes 20,000 hospitalizations, 3,000 amputations and 4,700 deaths every year.
Fortunately, there are countless tasty alternatives to sugar-sweetened beverages. Look for drinks with less than 25 calories in every 8oz. serving. Coffee and tea are naturally low in calories, even when you add small amounts of milk and sugar. If you crave a sweet drink, choose a small size and make it an occasional treat – or choose a sugar-free variety. For more information on healthy eating and drinking, call 311.
###